Multi-Service Scale-Out SDS Platform Enables Enterprise-Ready Container-Converged Infrastructures and Cloud-Native Applications; Provides iSCSI Block, NFS File, S3 and Swift Object Services
NexentaEdge 2.0 Revolutionizes High-Performance and Reliable Multi-Protocol Services with Simple GUI-Based Management for Large Archives and Seamless Docker Datacenter Integration
SANTA CLARA, Calif.—May 3, 2017 — Nexenta (@Nexenta), the global leader in Open Source-driven Software-Defined Storage (OpenSDS), today introduced the latest version of its award-winning scale-out block, file, and object storage platform, NexentaEdge. Purpose-built for today's leading enterprise IT environment with rapidly expanding application needs, NexentaEdge 2.0 is a flexible and future proof multi-service storage platform.
According to Gartner, by 2021 more than 80% of enterprise unstructured data will be stored in scale-out system and object storage systems in enterprise and cloud data centers, which is an increase from 30% today. * The newest release of NexentaEdge has a unique feature set to support this rapid market growth, including performance object storage and exceptional integration with Docker and OpenStack environments. In addition, Nexenta has rounded out their multi-service platform to include a shared namespace between file and object storage as well as container-converged capabilities to support next generation applications.
NexentaEdge 2.0 Product Enhancements Include:
Multi-service scale-out platform delivering iSCSI block, NFS file and S3 and Swift object services
Simple to manage web-based GUI for daily management and service provisioning
Patent-pending Quick Erasure Coding technology, manage both active and cold object archives with storage speed and efficiency
Superior data protection with cluster-wide inline deduplication, compression and unlimited snapshots/clones
Scale-out platform for Docker Container-Converged infrastructure with seamless integration with Docker Universal Control Plane for single pane of glass management of containerized applications
High performance, all-flash deployment profiles with support for SSD SATA, SAS and NVMe-based storage SSDs
Shared namespace between File and Object Storage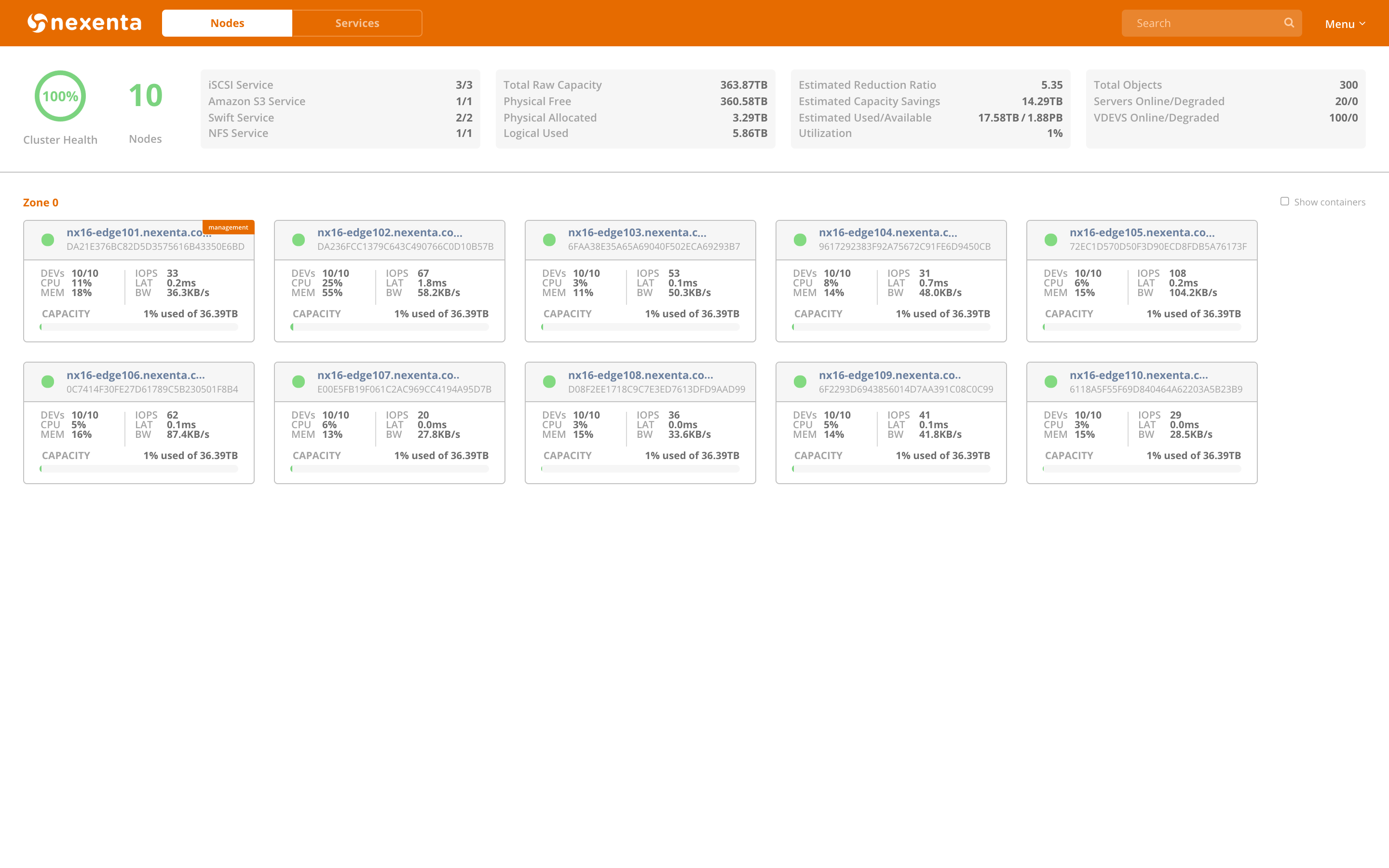 ​
"NexentaEdge scale-out block, file, and object storage delivers performance optimizations for all-flash and hybrid configurations, and is tightly integrated with both OpenStack cloud and Docker environments," said Oscar Wahlberg, Director of Product Management at Nexenta. "With the introduction of NexentaEdge 2.0, features like Quick EC allow customers to build multi-petabyte, capacity-optimized object archives without sacrificing performance and use the same solution to create a container-converged storage infrastructure with tight integration and seamless management."
High-performance object storage capabilities are one of the key differentiators of NexentaEdge in archive environments. This performance is powered by advanced data reduction technologies and further enhanced by the newly added feature, Quick Erasure Coding. NexentaEdge's Quick Erasure Coding (Quick EC) technology reduces the storage overhead required to maintain the redundancy of data across servers, without affecting read or write performance. Quick EC eliminates the performance penalty usually associated with accessing objects in traditional erasure coded solutions and is especially beneficial for large capacity S3 object clusters.
NexentaEdge 2.0 also extends functionality to containerized applications with new Docker Engine volume plug-ins and tight integration with Docker Universal Control Plane (UCP). NexentaEdge enables complete integration into any Docker Enterprise Edition deployment and allows users to seamlessly deploy storage and application services as containers across servers that provide both storage and compute in a container-converged model.
Container Converged architecture can create an enterprise-class scale-out compute, network, and storage infrastructure powered by NexentaEdge and is ideal for consolidating applications and storage for maximum hardware utilization. With advanced data reduction and container awareness with multi-tenancy capabilities, it is simple to deploy, manage and scale your containerized applications with NexentaEdge 2.0.
Additionally, a feature-rich, web-based graphical user interface (GUI) is now available to all NexentaEdge customers, streamlining daily management and operations, and integrating directly with Docker Datacenter for seamless management of container storage.
For more information, please contact sales@nexenta.com or visit http://nexenta.com/products.
Supporting Quotes:
"NexentaEdge is an ideal storage solution optimized for Canonical OpenStack clouds and can be purchased and deployed via our Juju Charm Store," said Dustin Kirkland, Head of Ubuntu Product and Strategy. "Nexenta is a proud partner of Canonical's, resolving the petabyte-scale storage challenges of our customers with a complete, scale-out storage solution."
"Software-defined storage is an important component of OpenStack and containerized cloud platforms," said Kevin Deierling, VP of Marketing at Mellanox Technologies. "We've integrated the Mellanox end-to-end Ethernet solutions with the NexentaEdge scale-out storage solution to simplify these deployments and achieve both high-performance and cost efficiency for customers."
"The Pluribus Networks Adaptive Cloud Fabric provides the scale-out network foundation that enhances the value of NexentaEdge deployments. Our joint solution delivers customers the elasticity, high-performance and resiliency needed for storage to achieve the promise of the Software-Defined Data Center with a high time-to-value and low TCO," said Robert Drost, co-founder and chief operations officer at Pluribus Networks.  "We are excited to share the enhanced offerings of NexentaEdge 2.0 with our customers and believe that our joint solutions continue to enable the scalable infrastructure needed to meet growing data demands."
"Together, Nexenta and Supermicro have formed a long-standing partnership to help customers free themselves of legacy shackles by partnering Nexenta's OpenSDS solutions with our leading server system and storage hardware," said Michael McNerney, General Manager Marketing and Solutions at Supermicro. "NexentaEdge furthers this objective, providing unparalleled block, file, and object services, accelerated by our appliances, to deliver a scalable, high-performance storage infrastructure."
* Gartner 2017 Strategic Roadmap for Storage Report released on March 8th 2017 (ID G00324339)
Tweet This: @Nexenta introduces latest version of #NexentaEdge, scale-out block, file & object storage, http://bit.ly/2p5v8Q3 #OpenSDS #objectstorage
About Nexenta
Nexenta is the inventor and market leader in Open Software-Defined Storage (OpenSDS) with nearly 6,000 customers, 300 partners, 50 patents, and more than 1,500 petabytes of storage under management; disrupting one of the largest IT market segments nearing $100B in size by 2020. Nexenta uniquely integrates software-only "open source" collaboration with one of the most active communities with 45,000+ members, and a comprehensive vision around commodity hardware-centric OpenSDS innovation enabling any app, any cloud platform and any protocol to power the largest and most performant data centers globally in the most cost effective way.  Nexenta OpenSDS solution portfolio is 100% Software-based.  Nexenta provides organizations with Total Freedom protecting them against punitive legacy hardware vendor gimmicks via "vendor-lock-in", "vendor-bait-n-switch", and "vendor-rip-n-replace".  Nexenta also provides comprehensive enterprise-class support and services with All Love.  Nexenta leads organizations with the "true" benefits of "true" Software-Defined Everything-centric cloud computing deployments. Nexenta enables everyday apps from rich media-driven social living to mobility; from the internet of things to big data; from legacy enterprise app deployments to do-it-yourself and web-scale cloud app deployments – on all types of clouds – private, public, and/or hybrid.  Founded on an "open core" platform Nexenta disrupts the legacy storage industry with its end-to-end scale-up and scale-out storage management software via integrated and advanced predictive management capabilities.  Nexenta delivers its award- and patent-winning software-only unified storage management solutions along with enterprise-scale 24x7 global service and support with a market-leading global partner network, including Canonical, Cisco, Citrix, Dell, Docker, Google, HPE, IBM, Intel, Lenovo, Micron, Microsoft, Quanta, Samsung, Seagate, Supermicro, VMware, Western Digital, Wipro, and many others.  Nexenta:  100% Software. Total Freedom. All Love.
For more information, download the Nexenta Overview and visit www.nexenta.com, Twitter, Facebook, LinkedIn and YouTube.
Nexenta, NexentaStor, NexentaConnect, NexentaEdge and NexentaFusion are trademarks or registered trademarks of Nexenta Systems Inc., in the United States and other countries. All other trademarks, service marks and company names mentioned in this document are properties of their respective owners.
Christina Adams
Marketing Manager
408-791-3330
pr@nexenta.com
Permalink : https://nexenta.com/company/media/press-releases/nexenta-delivers-future...