Enterprise Grade Unified Block & File Storage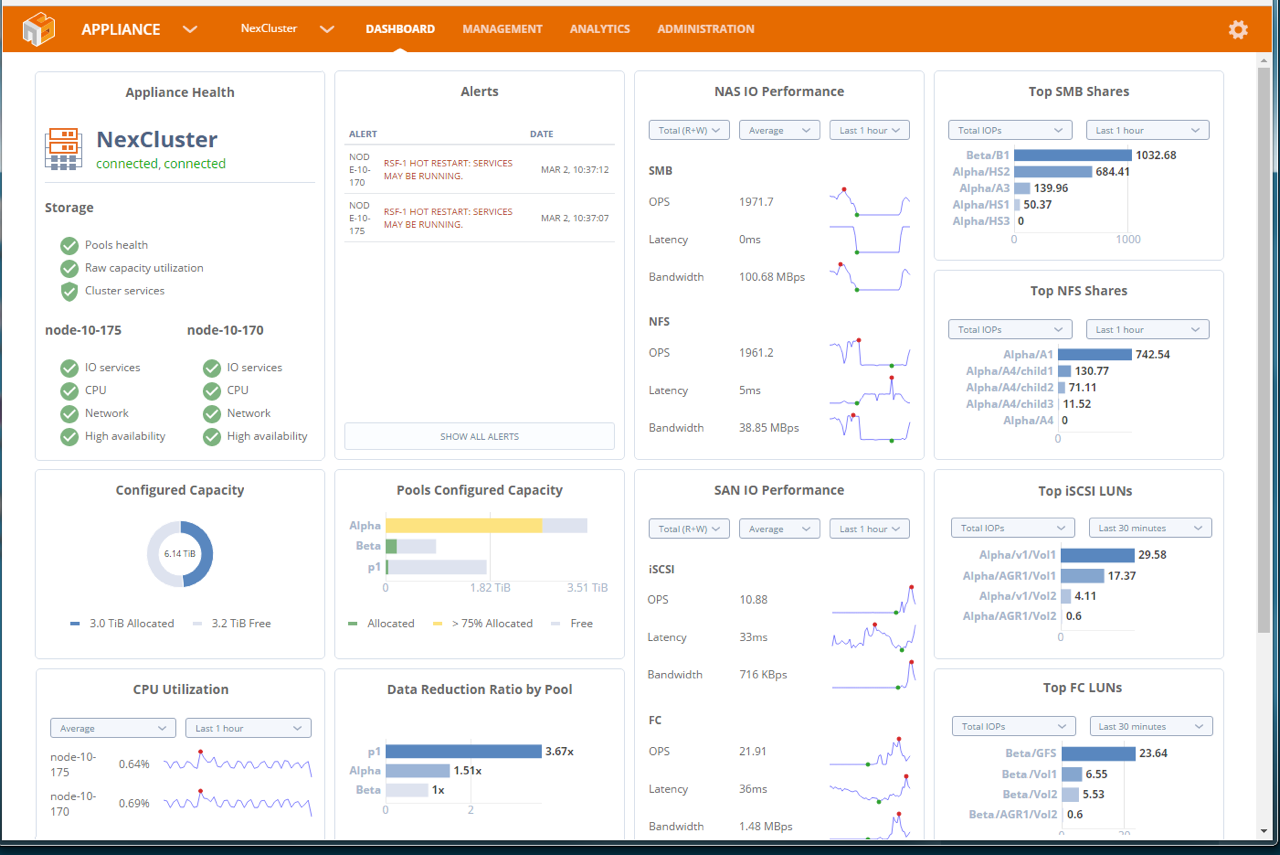 (click image to enlarge)
NexentaStor delivers unified file (NFS and SMB) and block (FC and iSCSI) storage services, runs on industry standard hardware supporting all-flash, hybrid, and all-disk scaling from tens of terabytes to petabyte configurations, and includes all data management functionality by default.
With the introduction of NexentaStor 5.0, the award-winning storage platform, and in combination with NexentaFusion customers can deploy, run, and scale better than ever before. From getting set up, to daily task, and checking the health of your storage environment, IT administrators are able to easily manage the needs of their business. Standard day to day tasks including deploying pools and creating a file system are now easy to configure in a matter of minutes.
Benefits

Dramatically lower storage costs for Cloud and Enterprise workloads
Simple swap-in replacement of legacy block and file storage appliances
Partner certified Reference Architectures for ease of deployment and support
Integration with NexentaFusion to provide simple management and orchestration for NexentaStor

Functionality

Unified File (NFS and SMB) and Block (FC and iSCSI) services
Enterprise-grade data integrity, scale and performance scaling from 10's of Terabytes to Petabytes
Unlimited file system sizes
Inline data reduction for additional storage cost savings
Unlimited space optimized snapshots and clones
Periodic or continuous asynchronous long distance replication
NexentaStor Integration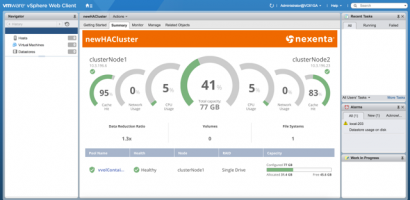 (click image to enlarge)
With best in class VMware integration, NexentaStor is designed with a multi-tenant VMware vCenter Plug-in and VMware Virtual Volume (VVOL) support. The VMware vCenter Web Client Plugin simplifies day-to-day operational tasks for VMware Administrators by allowing customers to incrementally scale storage by adding datastores from within the vCenter interface, identifying performance bottlenecks and reviewing capacity utilization trends.
Integration with vCenter's role-based authentication mechanism provides an added level of segmentation and security options for multi-tenant solutions, branch offices and even departmental storage solutions. It is a perfect complement for NexentaStor 5.0 VMware Virtual Volume support, allowing all storage operations on NexentaStor to be performed with Virtual Machine granularity.
We also offer advanced support for Docker, via the Docker volume driver, and full support for OpenStack, with OpenStack Cinder drivers for iSCSI and NFS for a broad set of OpenStack releases, you are able to easily snap in NexentaStor into a variety of use cases and take advantage of the innovation happening in the data center.
Target Use Cases

VMware cloud backend storage
Generic NAS file services and Home Directory storage
Near-line archive and large scale backup repositories
OpenStack and CloudStack backend storage

NexentaStor Add-Ons

Nexenta High-Availability
Fibre Channel Plug-in
High Performance Replication (HPR)
VMware vCenter Plug-in
OpenStack Plug-ins
Want to learn more?
Request a Demo, Email sales@nexenta.com or call 855-639-3682