Your Software-Defined Everything Journey starts here.
How will you deal with 100% more data being created from the Internet of Things (IoT) or from the latest trends in Social Media, Mobility, Big Data, and Cloud Delivery?
100% growth in data being created by IoT
100% growth in data migrating to the Cloud
100% growth in media being generated by Smartphones
What if your data center suddenly became 100% more effective?
100% more data stored in the same hardware
100% more end users
100% more IOPS
Click on a piece of the puzzle to learn more.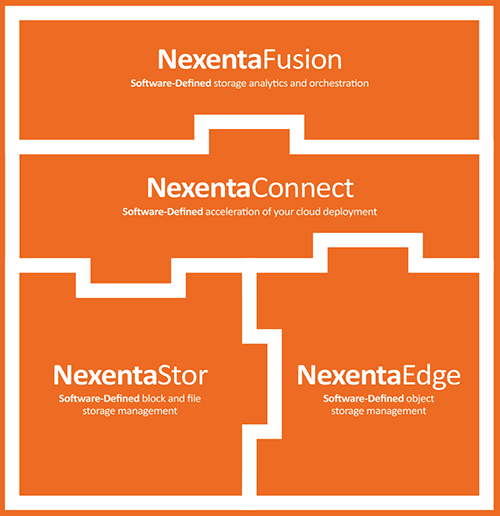 Our vision goes beyond Software-Defined Storage…
The Software-Defined Data Center (SDDC) is not just hype, but a critical ingredient enabling organizations to deal with the latest trends in Social Media, Mobility, the IoT, Big Data or Cloud Delivery. To fully achieve it, you need a Software-Defined Infrastructure (SDI) vision from server/storage/network to the end-user and everything in between.
With Software-Defined Everything (SDx), the computing infrastructure is virtualized and delivered as a service. In an SDx environment, management and control of the storage, networking, and data center infrastructure is automated by intelligent software rather than by the individual hardware components of the infrastructure.
NexentaStor™ is the first step.
NexentaStor delivers unified file and block storage services, runs on industry standard hardware, scales from tens of terabytes to petabyte configurations, and includes all data management functionality by default.  Transform your block and file storage infrastructure – increase flexibility and agility, simplify management, and dramatically reduce cost – without compromising on availability, reliability or functionality.
NexentaConnect™ is the second step.
NexentaConnect is a complete suite of software solutions to combine SDS with cloud, enterprise, and desktop deployments. Providing acceleration, automation and analytics that can only be delivered when storage is integrated with the entire solution stack.
NexentaEdge™ is the next step.
Next generation scale-out Object, Block and File Storage designed to be the most efficient platform in the market for OpenStack clouds and Big Data applications. NexentaEdge delivers Cinder Block and Swift/S3 object storage services, and integrates through a Horizon management plug-in, which simplifies storage management and capacity planning. NexentaEdge will integrate with SDN capabilities to deliver its ground-breaking performance. 
NexentaFusion™ is the final step.
With NexentaFusion, Nexenta builds on its vision of the Software-defined Data center by delivering Analytics and Orchestration Software that automates arrangement, coordination, and management of complex compute systems, data stores, and services without the need for administrators to pre-define the nature and placement of data.
VMware liberated the compute sector very successfully and is the best example of what "Software-Defined" can achieve. That innovation created even more innovation, like OpenStack and CloudStack. Compute was there first. Storage is happening now. Networking is more complex, but will follow. Let us help you move your organization to the new SDx world that is revolutionizing data centers everywhere.