Enterprise File Storage from Nexenta
As a software-based file storage solution, Nexenta gives customers ultimate flexibility and performance, eliminates hardware lock-in, facilitates migration to the public cloud, significantly reduces storage costs, and generally simplifies storage management and scaling. One of the many ways Nexenta provides file storage is through delivering file services on top of physical (bare metal), virtual private infrastructure, and the public cloud.
NexentaStor enterprise file storage support NFSv3, NFSv4, SMB 2.1 and SMB 3 protocols, including advanced features such as concurrent sharing over NFS and SMB, Windows-style ACLs, SMB 3 encryption, SMB 3 persistent handles, and SMB 3 transparent failover. This allows NexentaStor file storage to provide high performance, highly available file-based storage services to mixed Windows and Linux environments, as well as VMware and Hyper-V virtualized environments.
Key benefits

Complete Feature Set
     

High Performance
     

Built for Enterprise
     

Enabled for Public Cloud
     
Full-featured SMB and NFS file storage with inline data reduction, unlimited snapshots, long distance replication and simple management with NexentaFusion
High performance unified block and file services for databases, analytics, enterprise NAS and private cloud deployments
Enterprise grade storage services battle tested over more than 2,000 PB deployed.
Hybrid cloud ready deployments through seamless integration with NexentaCloud
Use Cases
User Directories and Profiles

Mixed Windows and Unix Departmental Storage

Line of Business Applications

Virtual Desktop Infrastructure
File Storage Options from Nexenta
The NexentaStor NFS and SMB services runs inside the kernel, allowing tight integration with the underlying file system native support of Windows style Access Control Lists for user access and permissions. This makes the solution particularly powerful in mixed environments where the same file system must be concurrently shared over NFS and SMB to Linux and Windows users.
For even more complex file share environments, NexentaStor supports Multi-Tenant File Services allowing a single system to be configured with multiple tenant-specific resource containers, each with its own independent IP space and Active Directory configuration.
Enterprises currently using legacy hardware appliances for file services can confidently switch to software-defined file storage from Nexenta for all their network attached storage (NAS) needs. With Nexenta, they leverage features such as inline data reduction, space-optimized snapshots, clones, replication, QoS, VMware, OpenStack, and Kubernetes integration and worldwide 24x7 support.
Deploying File Services Virtually on HCI or Existing SAN
Deploying an enterprise NAS storage solution can be a labor intensive and expensive proposition. Building on the power and flexibility of SDS, Nexenta provides a fast and easy solution to add file services (NFS and SMB) to any existing virtual infrastructure, without requiring any additional hardware. One of the many file storage deployment models of the NexentaStor solution is as a virtual storage appliance (VSA) to a hyper-converged infrastructure. Nexenta also offers enterprise NAS for the Public Cloud, through NexentaCloud, running in AWS to deliver a rich data storage solution based on the award-winning NexentaStor enterprise SDS platform.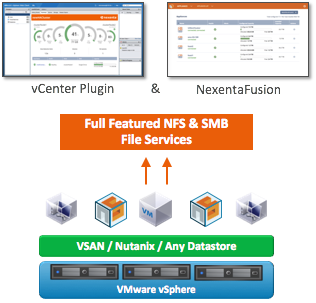 For deploying on bare metal, view our Hardware Certification List (HCL).
To trial our Enterprise File Services solution visit, https://nexenta.com/downloads.