All around the world, Cloud solutions are enabling businesses to mobilize and connect their workforces in a host of innovative ways. Effectively enabling cloud rests on the foundation of a Software-Defined Data Center, and Software-Defined Storage solutions. Once achieved, this platform for success will help them move forward to becoming highly efficient, high performance Software-Defined Enterprises.
SDS in the Cloud
Nexenta offers customers Enterprise NAS for the Public Cloud, via their product NexentaCloud in AWS. NexentaCloud delivers a rich data storage solution based on the award winning NexentaStor enterprise SDS platform, increasing storage effieciency for public cloud through data reduction, enhanced visibility and management of your cloud. Learn more about NexentaCloud in AWS here.

Additionally Nexenta partners with industry leading Cloud Service Providers around the world, like ScaleMatrix in San Diego, CA, to develop flexible, enterprise-class private cloud Software-Defined Storage solutions for our customers. We work closely with our partners to seamlessly deliver everything from highly performant all-flash storage to an economical all-disk archive for customers shifting certain workloads to the cloud. Regardless of what you choose, all of our solutions are flexible, scalable and reliable at a low TCO.
To drive further collaboration and support for organizations interested in leveraging Software-Defined Storage infrastructure in the cloud, Nexenta and ScaleMatrix have created a strategic relationship in the United States. This partnership between our companies offers customers the ability to take advantage of a variety of Cloud storage options with incredible geographic redundancy, data integrity and performance. These solutions offer unique services, such as physical access to Cloud storage sites, which demonstrate Scalematrix's commitment to providing the best customer service possible. To learn more, read the solutions brief here or contact nexentasales@scalematrix.com.
OpenStack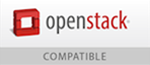 OpenStack technology consists of a series of interrelated projects delivering various components for a cloud infrastructure solution. Nexenta participates in several of these, including Cinder (block storage) and Swift (object storage). Delivering the first commercially available open source-based block storage driver for Cinder, NexentaStor has remained on the cutting edge of OpenStack storage solutions.
NexentaEdge is truly purpose built to work with OpenStack, providing both block and object access in a scale-out solution.  Keeping with the Nexenta DNA, NexentaEdge provides end-to-end data integrity and enterprise class features that are not found in most of the object stores on the market today.  Designed with improvements to the network stack, one of the key drawbacks of a distributed storage system, NexentaEdge can present performance-based iSCSI storage to use with Cinder while simultaneously delivering the object storage needed behind Swift. 
Learn more about Nexenta's openstack drivers here. 
CloudStack
Deploying cloud services through an integrated software stack, CloudStack is backed by some of the largest service providers in the world, many utilizing NexentaStor for the block and file storage capabilities. NexentaStor provides an integrated block level driver for use with Cloudstack when delivering the highest performance and least expensive cloud servers available. Organizations gain a rich complement of storage features including: snapshots, cloning, copy-on-write, HA, replication and more. Adding NexentaStor into Apache CloudStack environments enables IT users to manage large networks of virtual machines as a highly available, highly scalable Infrastructure as a Service (IaaS) cloud computing and storage platform.
DataCenter Automation
Large data centers require automation packages to avoid "human error" along with economies of scale. This is most often accomplished with the likes of data center automation tools such as Chef and Puppet. Clients for both of these leading data center automation tools are available with NexentaStor to provide ultimate flexibility and manageability to the datacenter operators.