Simple, Intelligent and Enterprise-Proven Deployment, Management and Operation on Any Hardware Infrastructure via Any Cloud at Any Scale
New NexentaStor 5.0 and NexentaFusion 1.0 Break New Ground with Industry-Leading Portfolio of All-Flash Reference Architectures and Integration with VMware Solutions
SANTA CLARA, Calif. and LAS VEGAS, Nev.— August 30, 2016 — Nexenta (@Nexenta), the global leader in Open Source-driven Software-Defined Storage (OpenSDS), today announced the general availability (GA) of the enterprise and community editions of NexentaFusion 1.0, simplified storage management and analytics, and the newest version of NexentaStor 5.0, the company's flagship OpenSDS solution.
"The data center is in a state of transformation as the enterprise embraces software-defined and all-flash technologies," said Eric Burgener, Research Director, Storage at IDC. "The introduction of solutions like NexentaStor 5.0 and NexentaFusion 1.0 is accelerating this change and simplifying the deployment and management of the storage infrastructure for the end customer."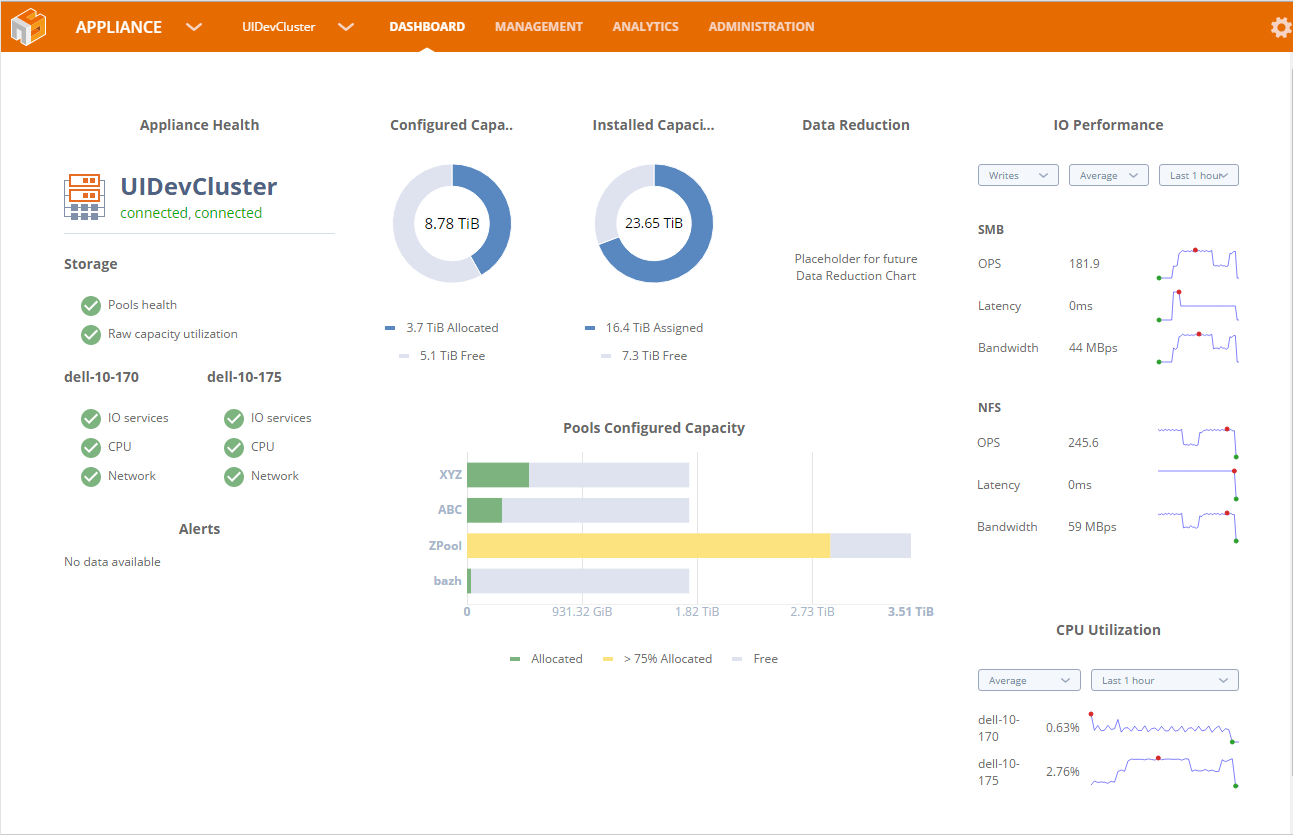 ​With a modern state-of-the-art graphical user interface, intuitive workflows, DevOps friendly self-documenting REST APIs and rich storage analytics, NexentaFusion 1.0 and NexentaStor 5.0 deliver operational cost savings that rival the capital cost savings that have made Nexenta the undisputed SDS market leader.
NexentaFusion 1.0 makes deploying, running and operating Software-Defined Storage infrastructure at any scale simpler than ever:
Single pane of glass to manage multiple NexentaStor appliances,
Intuitive provisioning and configuration workflows for simple service provisioning,
Advanced analytics dashboards for pro-active alerting and simple troubleshooting,
NexentaFusion builds on the new self-documenting RESTful API of NexentaStor 5.0
NexentaStor has a proven track record of successful deployments across a diverse set of industries, helping thousands of enterprises eliminate unwanted vendor lock-in, increase agility and reduce total cost of ownership (TCO) by 50 percent or more. With the introduction of NexentaStor 5.0, the award-winning file-and-block storage platform provides advanced All-Flash reference architectures and a new kernel based high-performance replication (HPR) solution that delivers continuous asynchronous replication for applications that require as close to zero Recover Point Objectives (RPO) as possible without performance degradation. Featuring interoperability via a redesigned multi-tenant VMware vCenter™ plug-in and VMware vSphere® Virtual Volumes™ support, NexentaStor is the ideal complement for virtual infrastructures regardless of industry.
The new VMware vCenter Web Client Plugin (vCenter Plugin) for NexentaStor 5.0 provides a unified interface to manage any number of NexentaStor appliances. It simplifies administrator day-to-day operational tasks by allowing customers to incrementally scale storage by adding datastores from within the vCenter interface, identify performance bottlenecks and review capacity utilization trends. Augmented by local snapshots and remote replication, the vCenter Plugin enhances an enterprise's data protection strategy. Integration of NexentaStor 5.0 with vCenter's role-based authentication mechanism provides an added level of segmentation and security options for multi-tenant solutions, branch offices and even departmental storage solutions. NexentaStor 5.0 with VMware vSphere Virtual Volumes support allows all storage operations on NexentaStor to be performed with virtual machine granularity.
Other enhancements in NexentaStor 5.0 include:
Simpler management of HA for unified File (NFS and SMB) and Block (FC and iSCSI) services
Complete set of self-documenting REST API for DevOps
Improved performance for streaming large IO workloads with support for extra-large pool record sizes
Native support for SMB 3 for Hyper-V environments
Kernel based high-performance replication (HPR) solution for scheduled replication with sub-minute RPOs
Ability to automatically pause and resume on-going replication streams for more resilient operations in challenging network environments
New support for continuous asynchronous replication for close to zero RPO long-distance replication of high performance applications
Advanced support for Docker via Docker volume driver
Full support for OpenStack with OpenStack Cinder drivers for iSCSI and NFS for a broad set of OpenStack releases
"NexentaStor 5.0 and NexentaFusion 1.0 not only deliver the industry's most comprehensive Software-Defined Storage infrastructure to tackle today's complex storage challenges, but it paves the way for tomorrow's data center with its support of evolving technologies like All-Flash," said Thomas Cornely, Chief Product Officer at Nexenta. "These new solutions offer unparalleled performance and ease of management while delivering operational cost savings that rival the capital cost savings that make Nexenta an undisputed SDS market leader."
Live demonstrations of NexentaStor 5.0 and NexentaFusion 1.0 will take place at VMworld 2016 in Las Vegas on Aug. 28-Sept. 1.
"With a lightning quick UI, optimized UX, unified NexentaStor systems management and fine-grained analytics, this release brings major refinements and productivity gains indispensable within Media and Entertainment environments." said Pascal Filion, Head of IT at Moment Factory.
"The new look and feel of NexentaStor and NexentaFusion is very solid and architecturally, it is well thought out by using the RestAPI," said Evgueni Martynov, Enterprise Virtualization & Storage Analyst at the University of Toronto.
Pricing and Availability
NexentaStor 5.0 is sold as a perpetual software license and includes the right to use NexentaFusion 1.0. The price per raw gigabyte is tiered based on total capacity, with lower prices for larger capacity deployments. A license for both NexentaStor 5.0 and NexentaFusion 1.0 starts at $0.25/GB list, plus maintenance and support, and decreases from there.
Community Edition
Nexenta is dedicated to the open source community and therefore continues to provide a Community Edition of NexentaStor 5.0 and NexentaFusion 1.0.  With over 100,000 community transactions, this single array home use system supports up to 10 TB of allocated space.  With the introduction of NexentaStor 5.0, Community users will also be able to experience the benefits of the award-winning file-and-block storage platform. The Community Edition also features interoperability via a redesigned VMware vCenter Web Client Plugin and VMware vSphere Virtual Volumes support.
For more information, please contact sales@nexenta.com.
Additional Resources:
NexentaStor Datasheet
NexentaFusion Datasheet
Installation and Configuration Videos
Japanese Press Release Translation
German Press Release Translation
Spanish Press Release Translation
Portuguese Press Release Translation
French Press Release Translation
Chinese Simplified Press Release Translation
Chinese Traditional Press Release Translation
Italian (Summary) Press Release Translation
Dutch (Summary) Press Release Translation
For more information on NexentaStor and NexentaFusion, please visit: http://nexenta.com/products.
Supporting Quotes:
"Nexenta and VMware deliver value to customers by integrating innovative SDS solutions for VMware environments," said Lee Caswell, VP Products, Storage and Availability Business Unit at VMware. "NexentaStor 5.0 is no exception, as its enhanced vSphere Virtual Volumes integration virtualizes hardware resources and can simplify management, allowing for full VMware compatibility."
"Nexenta has been an important partner in helping us deliver flexible and scalable storage solutions to our customers," said Travis Vigil, Executive Director Product Management at Dell Storage. "Nexenta continues to improve the customer experience with the introduction of NexentaStor 5.0 and NexentaFusion, offering impressive enhancements to its management capabilities."
"We identified Nexenta as an important leader in software-defined storage and forged a partnership to deliver comprehensive storage solutions to the enterprise," said David Lincoln, General Manager, Storage Business Unit at Lenovo. "Nexenta continues to demonstrate their leadership in the market with the introduction of NexentaStor 5.0 and NexentaFusion 1.0, delivering new value to our customers."
"Nexenta is a strategic partner in developing joint storage platforms optimized for the enterprise, data center and cloud," said Don Clegg, Marketing, Sales & Business Development at Supermicro. "NexentaStor 5.0 and NexentaFusion 1.0 continue to build upon the software-defined infrastructure to deliver highly scalable solutions that address the challenges of today's evolving data center and dynamic workloads."
"Nexenta has established a strong reputation in the channel for its progressive approach to software defined storage," said Joe Lau, Associate Vice President, Product Management, SYNNEX Corporation. "As Nexenta's only North American distributor, SYNNEX is able to help our solution provider customers be leaders in the next generation of data storage and business intelligence with NexentaStor 5.0 and NexentaFusion 1.0. Not only can they manage the storage of their clients' data, but they are also able to draw business insights from one source, which gives them a critical edge in today's business world." 
"Together, Nexenta and Western Digital created an all-flash solution by integrating NexentaStor and our SanDisk® InfiniFlash™ platform for media streaming, Big Data analytics, content services and other applications where high throughput and low latencies are critical," said Gary Lyng, senior director of Marketing & Strategy, Data Center Systems business unit at Western Digital. "With the introduction of NexentaStor 5.0, Nexenta continues to innovate for all-flash deployments for today and tomorrow's data center."
Tweet This: .@Nexenta announces GA of #NexentaStor 5.0 and #NexentaFusion, extending its leadership in the #OpenSDS market: http://ow.ly/hEiT303g6ex #SDS
About Nexenta
Nexenta is the global leader in Open Source-driven Software-Defined Storage (OpenSDS) with 6,000+ customers, 400+ partners, 42 patents, and more than 1,500 petabytes of storage under management. Nexenta uniquely integrates deep software-only "Open Source" collaboration with one of the largest and most vibrant Open Source communities (46,000 members) and a comprehensive vision around a commodity hardware-centric "Software-Defined Storage" innovation enabling ANY app, cloud platform and protocol. Nexenta is 100% Software-based; and 100% hardware-, protocol-, cloud platform-, and app-agnostic providing organizations with Total Freedom protecting them against vendor-lock-in. Nexenta provides enterprises with the "true" benefits of "true" Software-Defined Everything-centric Cloud Computing – from data centers to end users; from the infrastructure to apps. Nexenta enables everyday apps from rich media-driven Social Living to Mobility; from the Internet of Things to Big Data; from OpenStack and CloudStack to Do-It-Yourself Cloud deployments – for all types of Clouds – Private, Public, and Hybrid. Founded around an "Open Source" platform and industry-disrupting vision, Nexenta delivers its award-winning software-only unified storage management solutions along with - All Love - global service and support with a partner network, including Cisco, Citrix, Dell, Docker, HPE, Lenovo, Quanta, Seagate, Supermicro, VMware, Western Digital, Wipro, and many others. Nexenta:  100% Software. Total Freedom. All Love.
For more information, visit, www.nexenta.com, Twitter, Facebook, LinkedIn and YouTube. Also, download the newly published Nexenta Special Edition Software Defined Data Centers (SDDC) for Dummies eBook.
Nexenta, NexentaStor, NexentaConnect, NexentaEdge and NexentaFusion are trademarks or registered trademarks of Nexenta Systems Inc., in the United States and other countries. Western Digital, SanDisk, and InfiniFlash are registered trademarks or trademarks of Western Digital Corporation or its affiliates in the U.S. and/or other countries. VMware, vCenter, vSphere, Virtual Volumes, and VMworld are registered trademarks or trademarks of VMware, Inc. or its subsidiaries in the United States and other jurisdictions. All other trademarks, service marks and company names mentioned in this document are properties of their respective owners.
# # #
Company Contact:
Allison Darin
Director of Communications and Public Relations
Nexenta Systems, Inc.
831-359-8208
pr@nexenta.com
Permalink: https://nexenta.com/company/media/press-releases/nexenta-continues-lead-...