Pre-validated Nexenta and SanDisk solutions for ultra large scale, low-cost, high performance data centers available on Dell and Supermicro platforms
SAN FRANCISCO— VMworld 2015 U.S. - September 2, 2015 —  SanDisk Corporation (NASDAQ:SNDK), a global leader in flash storage solutions, and Nexenta (@Nexenta), the global leader in Open Source-driven Software-Defined Storage (OpenSDS), today announced that NexentaStor, the company's flagship software-only platform, has been integrated with SanDisk's all-flash InfiniFlash™ IF100 system. This all-flash joint solution provides data center customers with a pre-tested, full-featured, cost-effective, high-performance system for addressing today's increasing Big Data challenges.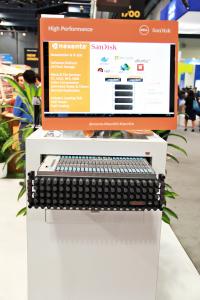 Capable of scaling from 64 Terabyte (TB) to two Petabyte (PB) configurations, this unique software and hardware solution supports a broad range of deployment scenarios and workloads including, virtualization, Big Data analytics, data warehousing, and dynamic modeling.  Built on ZFS, this resilient scale-up, unified block (FC and iSCSI) and file (NFS and SMB) storage solution provides enterprise customers with peace of mind and the assurance needed around functionality and performance. Key differentiators of this joint solution include NexentaStor's inline data reduction and high performance dual parity raid capabilities as well as the InfiniFlash IF100's extra low space, power and cooling requirements, resulting in industry leading TCO.
"The coupling of our NexentaStor software and SanDisk's InfiniFlash systems delivers the industry lowest cost solutions for high performance (ultra-low, consistent, sub-millisecond response times and more than 8 Million flash IOPS in a rack) mature unified block and file services to cloud service providers and enterprise customers," said Tarkan Maner, CEO of Nexenta. "These solutions literally break new ground and make all flash storage economically practical for a wide range of use cases, from high performance databases, to virtualized environments, big data lakes and extra dense active archive repositories."
The integrated system monitoring and event management capabilities of the new solution, eases system management which ensures a better customer experience. NexentaStor's ability to support block and file services allows customers to address use cases such as: VMware vCloud® Air™, OpenStack and CloudStack backend storage, generic NAS file services and Home Directory storage, etc.   
"By design, InfiniFlash provides data center customers with a seamless, simple to manage, cost efficient solution, that delivers substantial performance gains over traditional hard disk drive-based systems," said Ravi Swaminathan, Vice President and General Manager, Systems and Software Solutions, SanDisk. "By integrating with Nexenta, we are disrupting the status quo and changing the industry dynamics in favor of dramatically broader flash adoption throughout the data center."
Availability, Support and Pricing
Tested for use with both Dell PowerEdge R730 and Supermicro SuperServer® SYS-6028U-TR4+, the all-flash architecture will be available through select channel partners.  List price for the solution including, perpetual software licenses, controllers, InfiniFlash, 3 year support and installation starting as low as $1.5/Raw GB based on configuration and capacity requirements.
"The combination of Nexenta's software-defined storage software, SanDisk InfiniFlash and Dell PowerEdge servers allows us to offer customers an all-flash array solution with performance and capacity-optimized configurations to handle large-scale virtualization and file-based workload requirements," said Alan Atkinson, vice president and general manager, Dell Storage.
"Supermicro is the go to provider of leading edge server, storage and networking infrastructure solutions optimized for Enterprise, Data Center, and Cloud scale environments," said Wally Liaw, Sr. Vice President of Sales at Supermicro. "Our open collaboration to develop market leading solutions featuring advanced technologies such as Nexenta's NexentaStor and SanDisk's InfiniFlash delivers customers the best performance, scalability and manageability in pre-configured, full-featured all-flash software-defined storage solutions."
For more information, please refer to the All-Flash-Array Meets SDS Solution Brief.
Tweet This: With @Nexenta and @SanDisk all-flash-array meets #SoftwareDefinedStorage. Read more here http://bit.ly/1Jx7Uax #Flash #Storage #OpenSDS
SanDisk Handles and Hashtags: @BigDataFlash, @SanDiskDataCtr, #bigdataflash, #InfiniFlash
SanDisk at VMworld 2015 U.S.
To learn more and experience the power of the flash-accelerated, software-defined data center, please visit SanDisk in booth #1920 during VMworld, taking place at the Moscone Convention Center in San Francisco, August 30-September 3, 2015. You can join Serge Shats for session STO5704 on "Using Virtual Data Services for IO Acceleration in vSphere," taking place on Monday, August 31, from 12:30 – 1:30 PM; panel session VAPP5737 with industry experts such as Tarkan Maner and Rawlinson Rivera on Software Defined Storage, from 12:30 PM – 1:30 PM on Tuesday, September 1; or our two Solution Exchange sessions on Wednesday, September 2: FlashSoft 1:50 – 2:10 PM and All Flash Virtual SAN from 3:20 PM – 3:40 PM; and session STO5157 on "Running Business Critical Applications with VMware All Flash Virtual SAN" on Thursday, September 3 from 12:00PM to 1:00PM. SanDisk will also be showcasing its newest FlashSoft software solution during Tech Field Day Extra with Stephen Foskett taking place on Tuesday afternoon from 3:30-4:30pm. SanDisk's Executive Vice President, Chief Strategy Officer and General Manager of Enterprise Solutions, Sumit Sadana, will be speaking at Nexenta's OpenSDx Summit at 9:35 AM on Thursday, September 3. You can also see SanDisk solutions at work in our technology partner booths including: VMware, Dell, HP, Lenovo, Nexenta, CloudByte, Tegile, SIOS, Supermicro and Maxta. For more details on SanDisk's presence and solutions for VMworld, visit: http://www.sandisk.com/events/vmworld-us/.
About VMworld 2015 U.S. 
VMworld 2015 U.S. is the industry's largest virtualization and cloud computing event. With more than 400 unique breakout sessions and labs, and more than 240 sponsors and exhibitors, attendees will have unparalleled access to the knowledge and tools they need to master the new cloud landscape and transform their business. To learn more about VMworld, please visit: www.vmworld.com
About Nexenta
Nexenta is the global leader in Open Source-driven Software-Defined Storage (OpenSDS) with 6,000+ customers, 400+ partners, 33 patents, and more than 1,200 petabytes of storage under management. Nexenta uniquely integrates software-only "Open Source" collaboration with commodity hardware-centric "Software-Defined Storage" innovation. Nexenta OpenSDS solutions are 100% software-based; and 100% hardware-, protocol-, and app-agnostic providing organisations with Total Freedom protecting them against punitive vendor lock-in. Nexenta provides organisations with the "true" benefits of Software-Defined Everything-centric Cloud Computing – from data centres to end users; from the infrastructure to apps. Nexenta OpenSDS enables everyday apps from rich media-driven Social Living to Mobility; from the Internet of Things to Big Data; from OpenStack and CloudStack to Do-It-Yourself Cloud deployments – for all types of Clouds – Private, Public, and Hybrid. Founded around an "Open Source" platform and industry-disrupting vision, Nexenta delivers its award- and patent-winning software-only unified storage management solutions with a global partner network, including Cisco, Citrix, Dell, HP, Quanta, SanDisk, Seagate, Supermicro, VMware, Western Digital, Wipro, and many others. 
For more information, visit: www.nexenta.com, Twitter, Facebook, LinkedIn and YouTube. Also, download the newly published Nexenta Special Edition Software Defined Data Centers (SDDC) for Dummies eBook.
About SanDisk
SanDisk Corporation (NASDAQ: SNDK), a Fortune 500 and S&P 500 company, is a global leader in flash storage solutions. For more than 27 years, SanDisk has expanded the possibilities of storage, providing trusted and innovative products that have transformed the electronics industry. Today, SanDisk's quality, state-of-the-art solutions are at the heart of many of the world's largest data centers, and embedded in advanced smart phones, tablets and PCs. SanDisk's consumer products are available at hundreds of thousands of retail stores worldwide.  For more information, visit www.sandisk.com.
Media Contacts:
Allison Darin
Director of Communications & Public Relations
Nexenta Systems, Inc.
831-359-8208
pr@nexenta.com
Siobhan Lyons
Senior PR Manager, Enterprise and Client Solutions, SanDisk
202-431-9411
Siobhan.lyons@sandisk.com
© 2015 Nexenta Systems, Inc. All rights reserved. Nexenta, NexentaStor, NexentaConnect, NexentaEdge and NexentaFusion are trademarks or registered trademarks of Nexenta Systems Inc., in the United States and other countries. All other trademarks, service marks and company names mentioned in this document are properties of their respective owners.
© 2015 SanDisk Corporation. All rights reserved. SanDisk, InfiniFlash, and others are trademarks of SanDisk Corporation in the United States and other countries. Other brand names mentioned herein are for identification purposes only and may be the trademarks of their respective holder(s).
Permalink: https://nexenta.com/company/media/press-releases/sandisk-and-nexenta-del...