Docker Volume Plugins for NexentaStor and NexentaEdge Available in the Docker Store
SANTA CLARA, Calif.—March 1, 2017 — Nexenta (@Nexenta), the global leader in Open Source-driven Software-Defined Storage (OpenSDS), today announced its Nexenta Volume Plugins, for both NexentaStor and NexentaEdge, have been accepted as part of the Docker Certification Program, a framework for partners to integrate and certify their technology to the Docker Enterprise Edition commercial platform. The Nexenta Volume Plugins support high performance file systems storage for Docker containers and are currently available to download on the new Docker Store.
"We would like to congratulate Nexenta on their acceptance into the Docker Certification Program," said Marianna Tessel, EVP, Strategic Development. "Enterprise IT teams are looking to Docker to provide recommendations and assurances on the ecosystem of container content, infrastructure and extensions. Nexenta's inclusion into the program indicates that the Nexenta Volume Plugins have been tested and verified by Docker, confirming for customers that the container images have been evaluated for security and are supported and built according to best practices."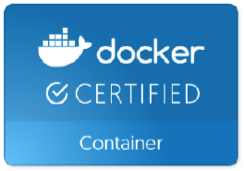 The exclusive Docker Store is Docker's new marketplace for customers and partners to discover and distribute certified Docker partner content.  Nexenta delivers storage file services for container images and the applications they run. The new Docker Store also includes enhanced container content discovery, simple, commercial-grade distribution, and direct Docker support.
Through its portfolio of solutions, Nexenta delivers a comprehensive set of software-defined storage services to Docker environments running:
Simple container-converged infrastructure purpose-built on servers running NexentaEdge data containers for reliable persistent storage of images and application data, accessible via native block, NFS file or S3 object interfaces
Containerized cloud native applications requiring high performance S3 object and file services from NexentaEdge scale-out storage clusters
Traditional databases and enterprise applications on high performance block and file services with enterprise grade data services provided by NexentaStor all-flash and hybrid appliances
Docker containers and microservice architectures have changed the way new applications are developed, deployed and managed at scale. Nexenta delivers the next stage of infrastructure evolution, building Software-Defined Storage management for containers and enabling high performance persistent storage services and seamless stateful container mobility on container-converged infrastructure powered by NexentaEdge.
"Nexenta's comprehensive container-converged infrastructure SDS solutions are solving today's enterprise challenges and the need for scalable and persistent storage for container environments. Our solutions combine powerful enterprise class storage functionality and are optimized to support and protect Docker containerized applications and their data," said Thomas Cornely, Chief Product Officer at Nexenta. "We are excited by the joint opportunities and collaboration ahead as a Docker partner and one of the first storage companies to deliver a Docker Certified Volume Plugin through the new Docker Store
Pricing and Availability
The NexentaStor and NexentaEdge Enterprise Edition, Docker Volume Plugins are available immediately, free of charge on the Docker Store.  To download visit:
Additional Resources:
For more information, please visit:
NexentaStor product page
NexentaEdge product page
NexentaEdge DevOps Edition white paper
Nexenta Container page
Tweet This: @Nexenta announces @Docker certified partnership & Volume Plug-ins, available on Docker Store. http://bit.ly/2lZ5coB #OpenSDS #containers
About Nexenta
Nexenta is the inventor and market leader in Open Software-Defined Storage (OpenSDS) with nearly 6,000 customers, 300 partners, 50 patents, and more than 1,500 petabytes of storage under management; disrupting one of the largest IT market segments nearing $100B in size by 2020. Nexenta uniquely integrates software-only "open source" collaboration with one of the most active communities with 45,000+ members, and a comprehensive vision around commodity hardware-centric OpenSDS innovation enabling any app, any cloud platform and any protocol to power the largest and most performant data centers globally in the most cost effective way.  Nexenta OpenSDS solution portfolio is 100% Software-based.  Nexenta provides organizations with Total Freedom protecting them against punitive legacy hardware vendor gimmicks via "vendor-lock-in", "vendor-bait-n-switch", and "vendor-rip-n-replace".  Nexenta also provides comprehensive enterprise-class support and services with All Love.  Nexenta leads organizations with the "true" benefits of "true" Software-Defined Everything-centric cloud computing deployments. Nexenta enables everyday apps from rich media-driven social living to mobility; from the internet of things to big data; from legacy enterprise app deployments to do-it-yourself and web-scale cloud app deployments – on all types of clouds – private, public, and/or hybrid.  Founded on an "open core" platform Nexenta disrupts the legacy storage industry with its end-to-end scale-up and scale-out storage management software via integrated and advanced predictive management capabilities.  Nexenta delivers its award- and patent-winning software-only unified storage management solutions along with enterprise-scale 24x7 global service and support with a market-leading global partner network, including Canonical, Cisco, Citrix, Dell, Docker, Google, HPE, IBM, Intel, Lenovo, Micron, Microsoft, Quanta, Samsung, Seagate, Supermicro, VMware, Western Digital, Wipro, and many others.  Nexenta:  100% Software. Total Freedom. All Love.
For more information, download the Nexenta Overview and visit www.nexenta.com, Twitter, Facebook, LinkedIn and YouTube.
Nexenta, NexentaStor, NexentaConnect, NexentaEdge and NexentaFusion are trademarks or registered trademarks of Nexenta Systems Inc., in the United States and other countries. All other trademarks, service marks and company names mentioned in this document are properties of their respective owners.
Contact Information:
Christina Adams
Marketing Manager
408-791-3330
pr@nexenta.com
Permalink: https://nexenta.com/company/media/press-releases/nexentas-solutions-acce...
# # #