SANTA CLARA, Calif. – Dec. 16, 2015 — Nexenta (@Nexenta), the global leader in Open Source-driven Software-Defined Storage (OpenSDS), today announced that they are sponsoring the Gateway Beautification Project supported by San Jose Mayor, Sam Liccardo and Downtown Streets Team, a non-profit organization working to end homelessness through the restoration and rebuilding of lives. The Gateway Project, aims to not only help beautify and take care of the San Jose environment, but also to end homelessness, one gateway at a time.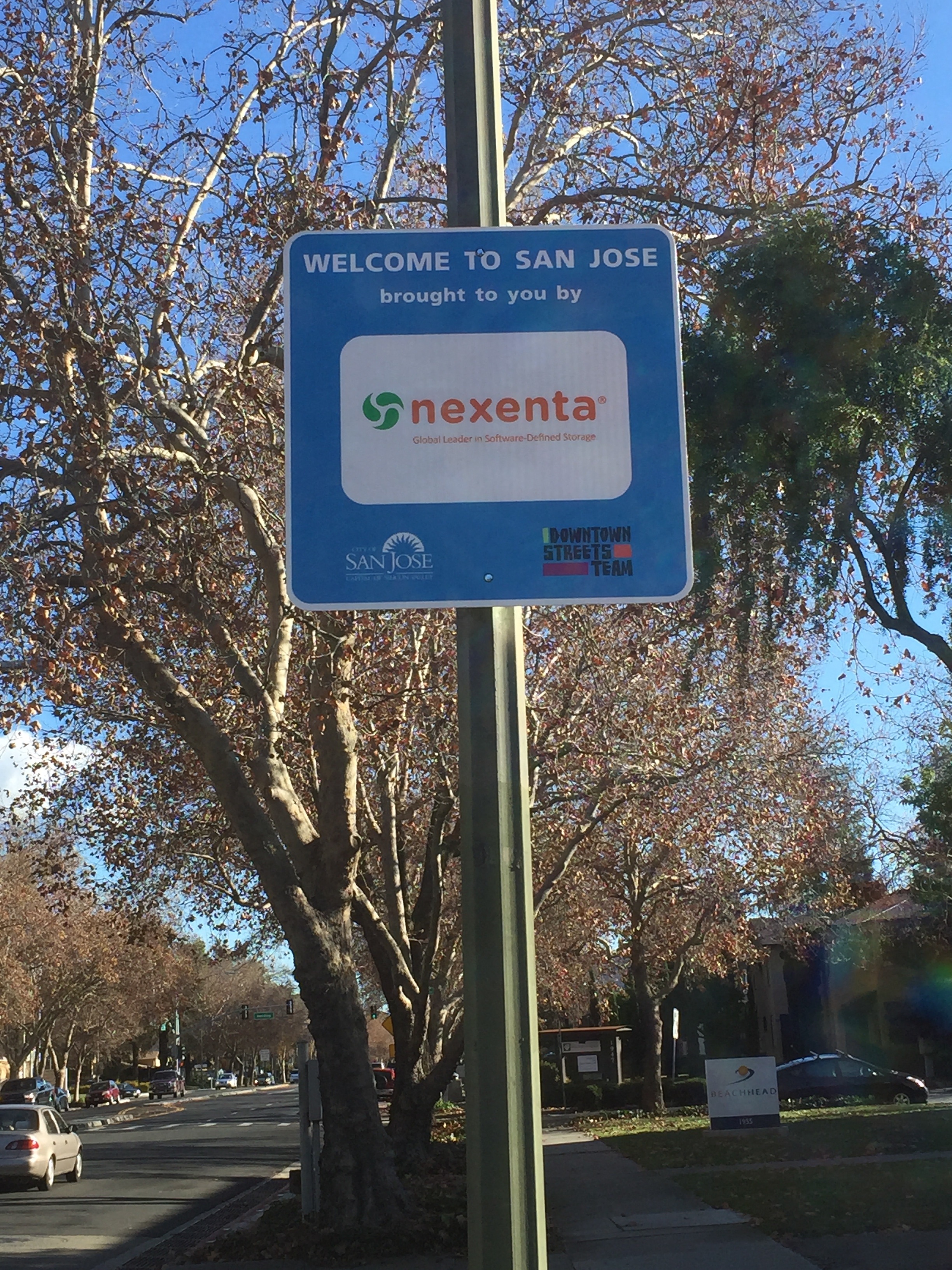 Nexenta is sponsoring a gateway sign near the 82/Alameda 880 highway interchange, which will be marked in bright blue and easily spotted at the nearby on-ramps. This sponsorship is another example of Nexenta's ongoing commitment to giving back to their local community. This year alone, in addition to backing the Gateways Project, Nexenta partnered with the Colorado Technology Foundation to help bridge companies to STEM education, technology and workforce programs in Colorado. The company also expanded its partnership with the Silicon Valley Education Foundation (SVEF), which included The 11th Annual Pioneers & Purpose Gala where Nexenta was a featured host. The November event raised $1.3 million to support K-12 education in California.
"Nexenta is honored to back the incredible work that Downtown Streets Team and Mayor Liccardo are doing with the Gateway Project," said Tarkan Maner, Chairman and CEO of Nexenta. "Giving back to our local community by creating opportunities of empowerment and support is of huge importance to us and our Gateway sign is an ongoing reminder of our dedication in this regard."
While the Gateway Project aims to beautify the local community, it's also about sharing social responsibility in the fight to end homelessness. Downtown Streets Team strives to build partnerships with cities to beautify neighborhoods, creeks and downtown streets as well as with the homeless men and women who volunteer on these projects. Nexenta joins Supermicro, Ernst & Young LLP, Wells Fargo and TiVo, amongst others in support of the project.
About Nexenta
Nexenta is the global leader in Open Source-driven Software-Defined Storage (OpenSDS) with 6,000+ customers, 400+ partners, 33 patents, and more than 1,200 petabytes of storage under management. Nexenta uniquely integrates software-only "Open Source" collaboration with commodity hardware-centric "Software-Defined Storage" innovation. Nexenta OpenSDS solutions are 100% software-based; and 100% hardware-, protocol-, and app-agnostic providing organizations with Total Freedom protecting them against punitive vendor lock-in. Nexenta provides organizations with the "true" benefits of Software-Defined Everything-centric Cloud Computing – from data centers to end users; from the infrastructure to apps. Nexenta OpenSDS enables everyday apps from rich media-driven Social Living to Mobility; from the Internet of Things to Big Data; from OpenStack and CloudStack to Do-It-Yourself Cloud deployments – for all types of Clouds – Private, Public, and Hybrid. Founded around an "Open Source" platform and industry-disrupting vision, Nexenta delivers its award- and patent-winning software-only unified storage management solutions with a global partner network, including Cisco, Citrix, Dell, HP, Quanta, SanDisk, Seagate, Supermicro, VMware, Western Digital, Wipro, and many others.
For more information, visit, www.nexenta.com, Twitter, Facebook, LinkedIn and YouTube. Also, download the newly published Nexenta Special Edition Software Defined Data Centers (SDDC) for Dummies eBook.
Nexenta, NexentaStor, NexentaConnect, NexentaEdge and NexentaFusion are trademarks or registered trademarks of Nexenta Systems Inc., in the United States and other countries. All other trademarks, service marks and company names mentioned in this document are properties of their respective owners.
###
Media Contact:
Emily Carey
Karbo Communications
650-704-6786
nexenta@karbocom.com
Company Contact:
Allison Darin
Director of Communications & Public Relations
Nexenta Systems, Inc.
831-359-8208
pr@nexenta.com
Permalink: https://nexenta.com/company/media/press-releases/nexenta-sponsors-downto...