SANTA CLARA, Calif.—April 11, 2016 — Nexenta (@Nexenta), the global leader in Open Source-driven Software-Defined Storage (OpenSDS), today announced that CRN®, a brand of The Channel Company, has named Nexenta to its 2016 Virtualization 50 list. The annual list recognizes channel friendly companies that provide some of the most innovation virtualization technology available.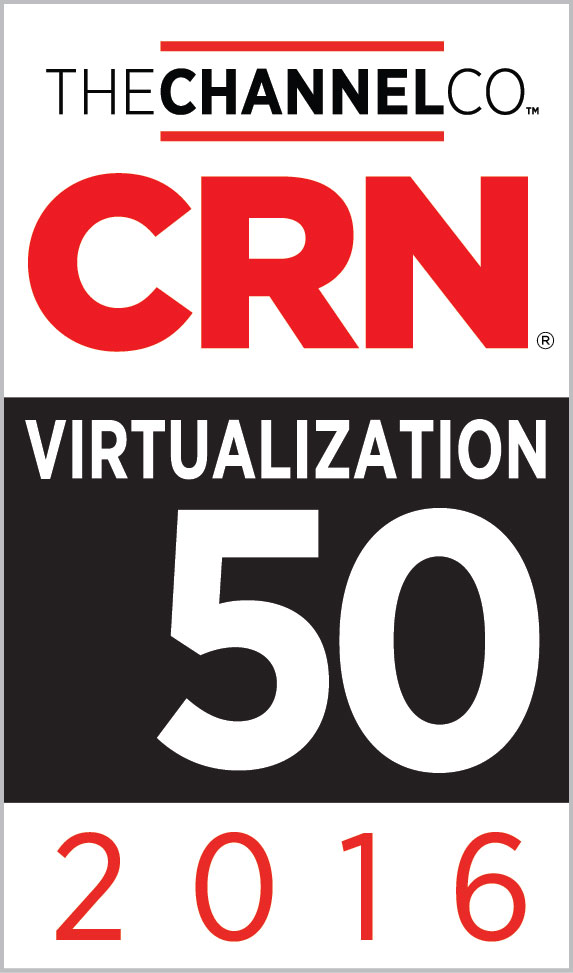 Selected by CRN editors, the 2016 Virtualization 50 list recognizes technology vendors that are leading the way in meeting a growing need for state-of-the-art virtualization offerings. These vendors are instrumental in helping solution providers select and deploy the right tools for building virtualized environments—a critical first step in transitioning customers to the cloud. In addition to honoring vendors for outstanding products and services, the list serves as a valuable guide for solution providers looking for best-in-class virtualization technology suppliers.
CRN editors select companies for the Virtualization 50 list on the basis of multiple criteria, including each company's overall impact on the market, its influence on the channel as a whole, and the desirability of the technology and services it makes available to its partners.
Nexenta overcomes the limitations of conventional legacy Virtual Desktop Infrastructure (VDI) storage solutions, optimizing enterprise applications and offering support at any scale. By collaborating on joint products and empowering agile and sustainable architectures with companies like VMware, Nexenta progresses innovation in virtualized environments by providing an ideal platform for software-defined storage solutions.
"Virtualization encompasses some of the most powerful tools in the IT industry today, enabling the centralization of resources and remarkable scalability of IT infrastructure," said Robert Faletra, CEO, The Channel Company. "This thriving segment of the IT market is the driving force behind the rapid, fascinating transformation of the data center, and we are pleased to shine a spotlight on some of the key players in this space."
"We are thrilled to be honored by CRN with this prestigious award for the second year in a row," said Tarkan Maner, Chairman & CEO at Nexenta. "CRN fosters growth of the channel through innovative tech solutions and cultivating relationships across the IT industry, and this win is a testament to Nexenta's ongoing dedication to our customers and partners in the same regard."
The Virtualization 50 list will be featured in the April 2016 issue of CRN and online at www.CRN.com/virtualization50.
Tweet This: .@TheChannelCo names @Nexenta to @CRN 2016 Virtualization 50 list #CRNVirtualization50  http://ow.ly/106PXG #OpenSDx #OpenSDS
Follow The Channel Company: Twitter, LinkedIn and Facebook
About Nexenta
Nexenta is the global leader in Open Source-driven Software-Defined Storage (OpenSDS) with 6,000+ customers, 400+ partners, 42 patents, and more than 1,500 petabytes of storage under management. Nexenta uniquely integrates deep software-only "Open Source" collaboration with one of the largest and most vibrant Open Source communities (46,000 members) and a comprehensive vision around a commodity hardware-centric "Software-Defined Storage" innovation enabling ANY app, cloud platform and protocol. Nexenta is 100% Software-based; and 100% hardware-, protocol-, cloud platform-, and app-agnostic providing organizations with Total Freedom protecting them against punitive "vendor-lock-in," "vendor-bait-n-switch," and "vendor-rip-n-replace" gimmicks. Nexenta provides enterprises with the "true" benefits of "true" Software-Defined Everything-centric Cloud Computing – from data centers to end users; from the infrastructure to apps. Nexenta enables everyday apps from rich media-driven Social Living to Mobility; from the Internet of Things to Big Data; from OpenStack and CloudStack to Do-It-Yourself Cloud deployments – for all types of Clouds – Private, Public, and Hybrid. Founded around an "Open Source" platform and industry-disrupting vision, Nexenta delivers its award- and patent-winning software-only unified storage management solutions along with enterprise-scale 24x7 - around the globe - All Love - service and support with a global partner network, including Cisco, Citrix, Dell, Docker, HPE, Lenovo, Quanta, SanDisk, Seagate, Supermicro, VMware, Western Digital, Wipro, and many others. Nexenta:  100% Software. Total Freedom. All Love.
For more information, visit, www.nexenta.com, Twitter(link is external), Facebook(link is external), LinkedIn(link is external) and YouTube(link is external). Also, download the newly published Nexenta Special Edition Software Defined Data Centers (SDDC) for Dummies eBook.
Nexenta, NexentaStor, NexentaConnect, NexentaEdge and NexentaFusion are trademarks or registered trademarks of Nexenta Systems Inc., in the United States and other countries. All other trademarks, service marks and company names mentioned in this document are properties of their respective owners.
About The Channel Company
The Channel Company enables breakthrough IT channel performance with our dominant media, engaging events, expert consulting and education and innovative marketing services and platforms. As the channel catalyst, we connect and empower technology suppliers, solution providers and end users. Backed by more than 30 years of unequalled channel experience, we draw from our deep knowledge to envision innovative new solutions for ever-evolving challenges in the technology marketplace. www.thechannelco.com 
CRN is a registered trademark of The Channel Company, LLC.  The Channel Company logo is a trademark of The Channel Company, LLC (registration pending).  All rights reserved.
Press Contact:
Emily Carey
Karbo Communications
650-704-6786
emily@karbocom.com
 
Company Contact:
Allison Darin
Nexenta Systems
831-359-8208
pr@nexenta.com
The Channel Company Contact:               
Melanie Turpin
The Channel Company 
508.416.1189
mturpin@thechannelco.com
Permalink: https://nexenta.com/company/media/press-releases/nexenta-recognized-crns...