GleSYS Internet Services AB runs on Nexenta and SanDisk's combined NexentaStor/InfiniFlash™ system, the market's first Open Software-Defined Storage All Flash Array
SANTA CLARA and MILPITAS, CA – April 13, 2016 (12am PT) – Nexenta (@Nexenta), the global leader in Open Source-driven Software-Defined Storage (OpenSDS), and SanDisk Corporation (NASDAQ: SNDK), a global leader in flash storage solutions have today announced that their joint All Flash Software-Defined Storage solution has been deployed at GleSYS Internet Services AB (GleSYS), a next-generation cloud platform provider.  The solution delivers cost effective, high performance storage architecture, empowering GleSYS and its customers to quickly scale capacity as required.  Additional information is detailed in the case study as well as next week's webinar.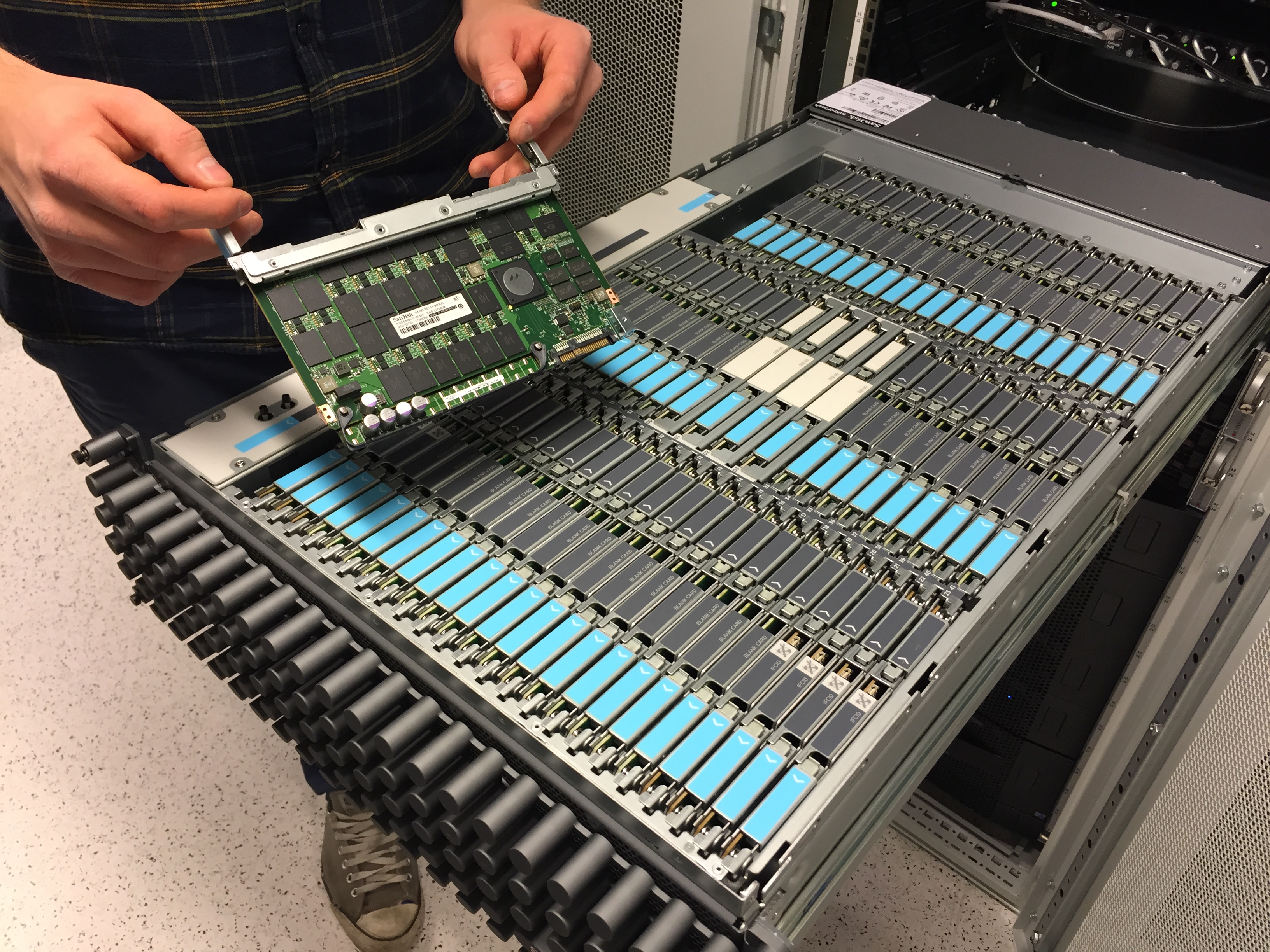 GleSYS provides flexible, scalable, hosted Internet solutions to nearly 3,500 customers around the world.  Based in Sweden, the organization specializes in offering its public cloud services to small- and medium-sized businesses on a self-serve basis.  Prior to selecting the Nexenta/SanDisk joint solution, GleSYS was struggling to ensure the reliability of its storage solutions for customers, many of whom require extra performance provisioning instantly.  What's more, the company has grown 100 percent over the last three years and, with similar growth projected for the future, requires a cost-effective scalable solution to keep up with its growth.
Following the advice of Layer 8 IT-Services, a company focused on delivering smart data center solutions based on software-defined innovations, GleSYS began to consider flash storage to solve the issues it was experiencing.  The company had previously deployed NexentaStor as a traditional hybrid solution and, with a good working relationship already in place, Layer 8 suggested the company investigate the joint solution from Nexenta and SanDisk.  GleSYS implemented the NexentaStor/InfiniFlash solution in its facility within weeks, intending to use the new system for primary storage and the existing architecture for secondary storage.
"We needed to find a solution provider that could actually understand our use case and what we wanted to do," said Glenn Johansson, founder and chief executive officer at GleSYS. "We weren't interested in buying bells and whistles that we didn't need.  We had a working relationship with Layer 8 and Nexenta and they presented the solution to us and promised it would deliver what we wanted. And it does."
"With the breakthrough economics in the combo of NexentaStor and InfiniFlash, an All Flash solution with superior performance, density and reliability with a very compelling cost per gigabyte (GB), GleSYS sets a new standard in cloud delivery." said Johan Tungström, CEO and co-founder at Layer 8 IT-Services.
GleSYS's previous solution was only able to reach a maximum of 12k Input/Output Operations Per Second (IOPS).  With the NexentaStor/InfiniFlash solution it runs at a constant 20k IOPS, with a latency of less than 1.5ms in its daily operations.  While IOPS currently peak at around 80k, GleSYS believes this is not the limit of the solution, but rather the max utilization that it has seen from its current load.  When it comes to data center footprint, GleSYS has a 64TB hybrid storage solution allocating 16U. The solution based on NexentaStor/InfiniFlash IF100 can hold up to 512TB in only 7U.
The new solution has also had a positive impact on GleSYS daily business operations.  Where previously its team was spending between 40 and 50 hours a month on administration and dealing with its customers' storage related challenges, this reactive problem solving has now been reduced to two to four hours per month.  Furthermore, the set-up has greatly benefited GleSYS' customers.  Its low TCO means users are receiving a solution with integrated SSDs for the price of HDDs and, due to its high performance and reliability, GleSYS has not experienced any service outages since installation.  The NexentaStor/InfiniFlash solution and the relationship GleSYS has built with both companies have proven to be hugely valuable to the organisation and its clients, and it anticipates GleSYS will be able to grow with this solution in place for as many as ten years. 
"We're delighted at the success of this project to date along with many other enterprise customers around the world," said Tarkan Maner, Chairman and CEO at Nexenta. "Our joint solution with SanDisk was intended to be a game-changer, offering a high performance solution at the fraction of the TCO of legacy hardware vendors.  We look forward to our continuing relationship with GleSYS and hope to help the company expand to even greater heights."
"SanDisk's InfiniFlash system and Nexenta's NexentaStor succeeded in providing GleSYS with a seamless, simple-to-manage, cost-efficient solution, that delivers substantial performance gains over traditional hard disk drive-based systems," said Ravi Swaminathan, vice president and general manager, Systems and Software Solutions, SanDisk. "By partnering with Nexenta, we are delighted to provide GleSYS with a scalable solution that ensures the reliability of its storage solutions for customers during this time of phenomenal growth."
Webinar
The GleSYS success story will be discussed in more detail during an upcoming webinar, April 20th 2016, 7am PT.  Executives from GleSYS, Nexenta, SanDisk and Layer 8 will take a deep dive into the challenges that the organization was facing with its legacy storage set-ups, and how the NexentaStor/InfiniFlash system is ensuring better storage performance and reliability for the company and its customers. Register for the webinar here: https://www.brighttalk.com/webcast/12587/198547
For additional resources about the GleSYS deployment, visit:
Nexenta GleSYS Case Study
SanDisk GleSYS Case Study
Layer 8 GleSYS Press Release (in Swedish)
Layer 8 GleSYS Case Study (in Swedish)
Tweet this: .@nexenta and @SanDisk partner to provide hybrid #NexentaStor and #InfiniFlash storage solution to @glesysab #OpenSDS
Tweet this: .@Layer_8_IT combines @nexenta and @SanDisk to provide all-flash #NexentaStor and #InfiniFlash storage solution to @glesysab #OpenSDS
About Nexenta
Nexenta is the global leader in Open Source-driven Software-Defined Storage (OpenSDS) with 6,000+ customers, 400+ partners, 42 patents, and more than 1,500 petabytes of storage under management. Nexenta uniquely integrates deep software-only "Open Source" collaboration with one of the largest and most vibrant Open Source communities (46,000 members) and a comprehensive vision around a commodity hardware-centric "Software-Defined Storage" innovation enabling ANY app, cloud platform and protocol. Nexenta is 100% Software-based; and 100% hardware-, protocol-, cloud platform-, and app-agnostic providing organizations with Total Freedom protecting them against punitive "vendor-lock-in", "vendor-bait-n-switch", and "vendor-rip-n-replace" gimmicks. Nexenta provides enterprises with the "true" benefits of "true" Software-Defined Everything-centric Cloud Computing – from data centers to end users; from the infrastructure to apps. Nexenta enables everyday apps from rich media-driven Social Living to Mobility; from the Internet of Things to Big Data; from OpenStack and CloudStack to Do-It-Yourself Cloud deployments – for all types of Clouds – Private, Public, and Hybrid. Founded around an "Open Source" platform and industry-disrupting vision, Nexenta delivers its award- and patent-winning software-only unified storage management solutions along with enterprise-scale 24x7 - around the globe - All Love - service and support with a global partner network, including Cisco, Citrix, Dell, Docker, HPE, Lenovo, Quanta, SanDisk, Seagate, Supermicro, VMware, Western Digital, Wipro, and many others. Nexenta:  100% Software. Total Freedom. All Love.
For more information, visit, www.nexenta.com, Twitter, Facebook, LinkedIn and YouTube. Also, download the newly published Nexenta Special Edition Software Defined Data Centers (SDDC) for Dummies eBook.
Nexenta, NexentaStor, NexentaConnect, NexentaEdge and NexentaFusion are trademarks or registered trademarks of Nexenta Systems Inc., in the United States and other countries. All other trademarks, service marks and company names mentioned in this document are properties of their respective owners.
About SanDisk Systems & Storage Solutions
SanDisk's Systems and Storage Solution portfolio enables the flash-transformed data center through integrated, tested and supported flash solution building blocks for today's enterprise and cloud workloads, including virtualization, tier-1 databases, Big Data Analytics and Digital Media Repositories, for an experience never before thought possible with extreme performance, massive capacity and immediate access to information.
In addition to InfiniFlash System, the portfolio includes the leading solid state devices of Fusion ioMemory, Lightning Series, Optimus Series and CloudSpeed Series and SanDisk enterprise SSDs and systems integrated with software such as FlashSoft™, SanDisk ION Accelerator™ and InfiniFlash OS Ceph.  
For more information about SanDisk Systems Solutions from SanDisk, visit www.sandisk.com/business/datacenter
About SanDisk
SanDisk Corporation (NASDAQ: SNDK), a Fortune 500 and S&P 500 company, is a global leader in flash storage solutions. For more than 27 years, SanDisk has expanded the possibilities of storage, providing trusted and innovative products that have transformed the electronics industry. Today, SanDisk's quality, state-of-the-art solutions are at the heart of many of the world's largest data centers, in advanced smartphones, tablets and PCs. SanDisk's consumer products are available at hundreds of thousands of retail stores worldwide. For more information, visit www.sandisk.com.
SanDisk Forward Looking Statements
This news release contains certain forward-looking statements, including expectations for the NexentaStor/InfiniFlash product offerings and their performance, capabilities, cost efficiency and other benefits, continued growth of GleSYS and industry storage requirements and the relationships among SanDisk, Nexenta and GleSYS, that are based on current expectations and involve numerous risks and uncertainties that may cause these forward-looking statements to be inaccurate. Risks that may cause these forward-looking statements to be inaccurate include among others: the NexentaStor/InfiniFlash product offerings may not provide the benefits that customers expect, including performance, cost or scalability, GleSYS and the market for storage solutions may not grow as expected or at all, and SanDisk's collaboration with Nexenta, and their relationship with GleSYS, may not continue as expected or at all, and the other risks detailed from time-to-time in SanDisk's Securities and Exchange Commission filings and reports, including, but not limited to, its annual report on Form 10-K for the year ended January 3, 2016. This news release contains information from third parties. All statements made in this news release are made only as of the date of this release or the date of issuance by a third party, as applicable. SanDisk undertakes no obligations to update the information in this release in the event facts or circumstances change after the date of this release.
---
SanDisk is a trademark of SanDisk Corporation, registered in the United States and other countries.  InfiniFlash are trademarks of SanDisk Corporation. Other brand names mentioned herein are for identification purposes only and may be the trademarks of their holder(s).
---
Contact:
Allison Darin
Director of Communications and Public Relations, Nexenta
831-359-8208
pr@nexenta.com
Permalink: https://nexenta.com/company/media/press-releases/leading-european-next-g...