Nexenta is proud to be a VMware Elite Partner and NexentaStor is VMware Ready Certified. We integrate with VMware through our vCenter plugin and VVOLs support. 
vCenter Plugin
The NexentaStor 5.0 vCenter Web Client Plugin (vCenter Plugin) enables VMware customers to configure and manage storage and virtualization through a single interface. With this plugin, system administrators avail of summary and detailed analytics and real time status monitoring of single and clustered NexentaStor appliances.
It simplifies day-to-day operational tasks in a virtual environment by allowing you to:
Configure and incrementally scale your storage infrastructure by adding datastores using a point and click interface.
Identify performance bottlenecks and review capacity utilization trends.
Quickly adapt to changing data protection needs through local and remote replication, and on demand and scheduled local snapshots.
Increase security through integration with vCenter's role-based authentication mechanism (multi-tenancy).
VVOLs
Virtual Volumes (VVOLs) abstracts or virtualize physical hardware resources (NAS devices) into logical pools of storage capacity (Virtual Volumes datastores) that can be configured on the fly without disruption. NexentaStor supports file services and several advanced storage features such as replication, snapshots, and clones. The NAS pools can be virtualized as VVOL datastores. VVOLs enable a more efficient operational model in a virtualized environment because they are centered around the VM or VMDKs, rather than the physical infrastructure. 
Complimenting VMware vSAN
​
NexentaStor allows you to easily add file services with vSAN by using our software-defined technology. Designed to give you a pain-free update, this enterprise calss, hardware independent, option runs as a virtual machine or a pair of virtual machines on your existing custer. 
To learn more, visit our Virtual Storage Appliance page.
NexentaStor VSA Certified as VMWare Ready for Vmware vSan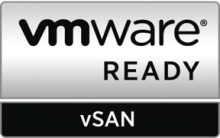 This designation indicates that after a detailed validation process NexentaStor VSA has achieved VMware's highest level of endorsement and is supported on VMware Virtual SAN for production environments. This qualification enables Nexenta and VMware customers an added level of validation and confidence when deploying NexentaStor VSA in a VMware vSan environment. For more information, click here.