| | |
| --- | --- |
| | Simply Add Enterprise File Services to Any VMware Environment |
NexentaStor allows you to easily add file services to a Hyper-Converged Infrastructure and All-Flash VMware datastores by using our software-defined technology. Designed to give your existing infrastructure a pain-free update, this enterprise class, hardware independent, option runs as a virtual machine (VM) or pair of VMs on your existing cluster.
Maximize your current investment, expand outside of your initial workloads and broaden the use cases available by adding NexentaStor.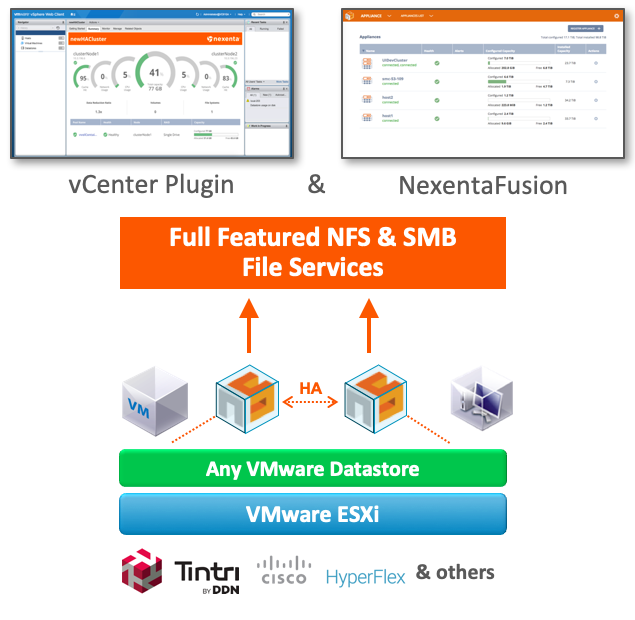 Use cases
User Directories and Profiles

 

 

Branch Office Consolidation

 

 

Backup

 

 

Line of Business Applications

 

 

Departmental Storage

 

 

Virtual Desktop Infrastructure

 

 
NexentaStor VSA for Tintri
| | |
| --- | --- |
| | Under the DDN family, Nexenta and Tintri have worked closely together to develop the NexentaStor VSA for Tintri solution, allowing you to simply add Enterprise NAS file services to your existing Tintri deployment. Deployed as an OVF on VMware ESXi hosts and Tintri datastores, the NexentaStor VSA for Tintri is optimized to get maximum capacity savings from Tintri's data reduction technologies and provide full featured NFS and SMB services, including high-availability clustering, space optimized snapshots, snapshot schedules, high performance replication, and more. |
Learn More about Tintri and Nexenta
NexentaStor VSA for Cisco HyperFlex
| | |
| --- | --- |
| | Nexenta by DDN and Cisco have partnered to help enterprises grow their businesses by providing complementary NAS and hybrid public cloud capabilities. Cisco HyperFlex is an excellent option for hosting high performance virtual machines (VMs) and virtual desktop infrastructure (VDI). Adding file services can increase the versatility of these storage systems to support home directories, virtual desktop user profiles, and back-up applications. Using NexentaStor VSA software-defined storage provides an extremely efficient means of getting both the block storage already available from Cisco HyperFlex and Enterprise NAS features. |
Learn More about Cisco and Nexenta
NexentaStor VSA Certified as VMware Ready for VMware vSAN
| | |
| --- | --- |
| | This designation indicates that after a detailed validation process NexentaStor VSA has achieved VMware's highest level of endorsement and is supported on VMware Virtual SAN for production environments. This qualification enables Nexenta and VMware customers an added level of validation and confidence when deploying NexentaStor VSA in a VMware vSAN environment. |
Learn More about VMware and Nexenta 
Deploying NexentaStor as a VSA
NexentaStor VSA storage pools are built on VMDKs from an ESXi datastore and rely on the durability provided by the array or HCI that is serving that datastore. From feature and manageability perspective, the NexentaStor VSA runs standard NexentaStor software and can be managed via CLI, REST API, NexentaFusion or our VMware vCenter Plugin. See step by step how simple it is to deploy on our blog here
Deploy NexentaStor for VSA in a Matter of Minutes, Learn How