​Nexenta is recognized for its Open Source-driven community innovation, 100% channel GTM programs, and its strong partner eco-system WW
London, UK – April 8, 2015 Nexenta (@Nexenta), the global leader in Open Source-driven Software-Defined Storage (OpenSDS) today announced that it has won Software Vendor of the Year at the European IT & Software Excellence awards.  IT Europa's European IT & Software Excellence Awards 2015 recognise best practices in customer solutions by Systems Integrators, Solution VARs, MSPs and ISVs across Europe.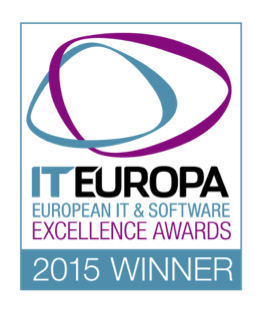 The Gala Awards dinner took place at the Lancaster London hotel on March 25 to honor this year winners across Europe who have excelled in their approach to using technology and their ability to support a structured distribution channel.
The Nexenta Partner Program is designed to help support partners throughout the lifecycle of the partnership - from initial engagement to joint marketing, sales and support, making it stand out from the competition. Nexenta was announced as Software Vendor of the Year for its strong channel support including our close work with the UK distributor Getech Distribution.
Guy Watts, Managing Director, Getech Ltd, said: "Nexenta's SDS solution offers an exciting opportunity for us in the storage arena. Our goal is to disrupt the stranglehold that the likes of NetApp and EMC have on the market. After meeting and speaking to a number of key resellers and customers it is clear the market is keen to explore new alternatives to the big hardware storage providers. The Software-Defined world offers a real alternative and Nexenta's storage is underpinning the data centre of the future. As with all the solutions we supply, Getech will be offering a fully certified technical support team to support the roll out of Nexenta, providing a total supply and support service."
Don Lopes, Director of Channels and Inside Sales, said: "This award recognizes the close relationship we have with our channel partners. We are proud to help support their businesses and bring value to our customers, while driving differentiation in the market.  Being a channel focused company, our partner program is designed to ensure they have the support they need."
About Nexenta
Nexenta is the global leader in Open Source-driven Software-Defined Storage (OpenSDS) with 6,000+ customers, 1,000+ partners, 30+ patents, and more than 1,000 petabytes of storage under management. Nexenta uniquely integrates software-only "Open Source" collaboration with commodity hardware-centric "Software-Defined Storage" innovation. Nexenta OpenSDS solutions are 100% software-based; and 100% hardware-, protocol-, and app-agnostic providing organizations with Total Freedom protecting them against punitive vendor lock-in. Nexenta provides organizations with the "true" benefits of Software-Defined Everything-centric Cloud Computing – from data centers to end users; from the infrastructure to apps. Nexenta OpenSDS enables everyday apps from rich media-driven Social Living to Mobility; from the Internet of Things to Big Data; from OpenStack and CloudStack to Do-It-Yourself Cloud deployments – for all types of Clouds – Private, Public, and Hybrid. Founded around an "Open Source" platform and industry-disrupting vision, Nexenta delivers its award- and patent-winning software-only unified storage management solutions with a global partner network, including Cisco, Citrix, Dell, HP, Quanta, SanDisk, Seagate, Supermicro, VMware, Western Digital, Wipro, and many others. 
For more information, visit, www.nexenta.com, Twitter, Facebook, LinkedIn and YouTube. Also, download the newly published Nexenta Special Edition Software Defined Data Centers (SDDC) for Dummies eBook.
Nexenta, NexentaStor, NexentaConnect, NexentaEdge and NexentaFusion are trademarks or registered trademarks of Nexenta Systems Inc., in the United States and other countries. All other trademarks, service marks and company names mentioned in this document are properties of their respective owners.
###
Contact Information:
Allison Darin
Nexenta Systems
831-359-8208
pr@nexenta.com
Permalink: http://www.nexenta.com/company/media/press-releases/nexenta-wins-softwar...