SuperMicro and Nexenta strategic partnership is built to offer customers around the world the most comprehensive Software-Defined Storage solution running on the global leader in high-performance and high-efficiency server technology. The partnership between SuperMicro and Nexenta touches all aspects of a customer's needs including, tight mutual product development, product certification, collaboration though sales engagement process, integration services, and post sales support. Some of the added benefits for joint customers include:
Factory integrated and tested scale-up and scale-out storage appliance
All-Flash, Hybrid, & HDD single SKU for worldwide deployment available for complete Nexenta and SuperMicro certified solutions
Worldwide Program Managers on both teams to support continue innovation
Scale-out, multi-service storage appliances including Micron's Solid Ready All-Flash Appliance and Supermicro's Unified Storage Appliance
Joint Pre and Post Sales Professional Services and Support, including 24x7 support centers through Supermicro
Supermicro Unified Storage Appliance powered by Nexenta
Simple, Scalable, High-Availability Storage Designed for Seamless "Out-of-the Box" Deployments.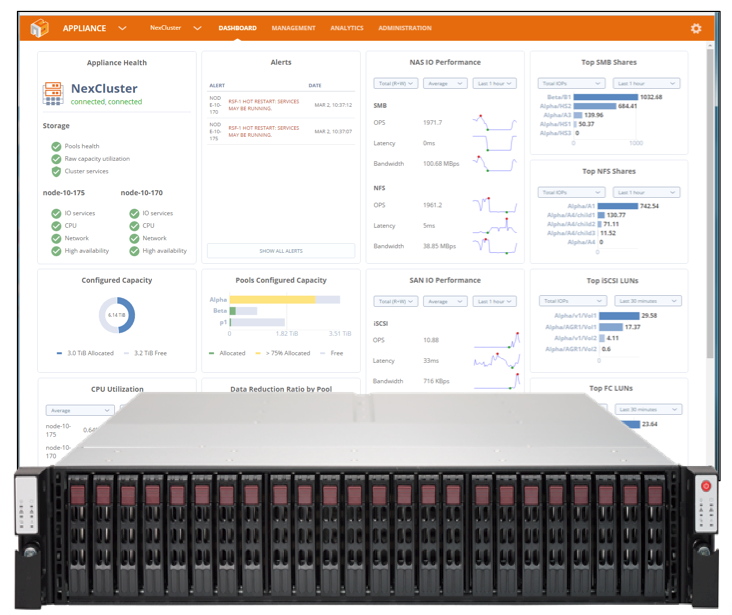 Supermicro is now offering Software-Defined Storage appliances, powered by Nexenta, that are fully tested, validated, and are easy to deploy and manage. This brings all the benefits of SDS, including flexibility and lower total cost of ownership, to the Supermicro Unified Storage Appliance powered by Nexenta.  This purpose-built, small form factor cluster delivers enterprise grade, full featured unified file and block storage services.
The Supermicro Unified Storage Appliance comes in seven High-Availability configurations including all-flash (2U) and hybrid (4U).  These configurations were specifically designed to support your high performance databases, business-critical virtualized environments, generic file servers and near-line archive use cases needs.
 
All Flash

Hybrid

Rotational Media

Models
SSG-2028R-NEX2010
SSG-2028R-NEX2020
SSG-2028R-NEX2030
SSG-2028R-NEX2040
SSG-6048R-NEX4030
SSG-6048R-NEX4020
SSG-6048R-NEX4010
Storage Media
1.9TB SAS SSD
3.8TB SAS SSD
2TB SAS 7k RPM
4TB SAS 7k RPM
8TB SAS 7k RPM
Expansion
Up to 2x 2U/24 bay JBODs (72 bays total)
Up to 2x 4U/44-bay JBODs (112 bays total)
Data Protection
Dual-Parity
Mirrors
3x Hot-spare HDD
Dual Parity
3x Hot-spare HDD
Triple Parity
2x Hot-spare HDD
Raw Capacity (TB)
23 to 92
46 to 276
42 to 218
84 to 420
176 to 880
Usable Capacity (TB)
15 to 61
30 to 184
20 to 106
48 to 272
128 to 640
Effective Capacity
41 to 166
82 to 502
27 to 145
65 to 371
140 to 698
Flash Cache
N/A
N/A
Yes
Yes
N/A
Protocol Support
File: NFSv3 / NFSv4 / CIFS / SMB3 / iSCSI / Fibre Channel
Ecosystem Support
Windows, Linux, VMware VAAI, VMware VVOL, VMware Multi-Tenant vCenter Plugin, OpenStack Cinder & Manila, Hyper-V SMB 3 ODX, Docker Volume Plug-In
Data Services
Unlimited File System Size, Unlimited Snapshots & Clones, Inline Data Reduction, Storage Quality of Service, Scheduled Snapshot Based Replication, Continuous Asynchronous, Replication
Management
NexentaFusion: Single pane of glass multi-appliance management, Advanced Analytics, Simple Operations
Command Line Interface / Self-Documenting REST API / SNMP/







For more questions on the partnership contact supermicro@nexenta.com.