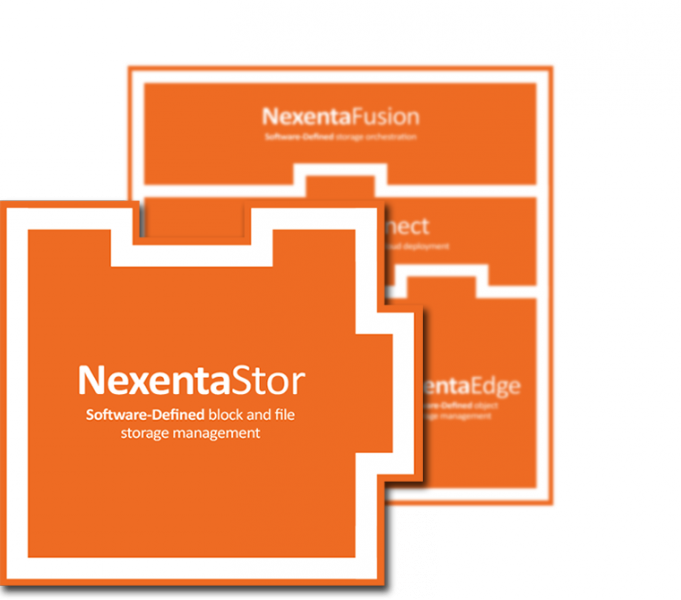 Increase Flexibility. Eliminate Lock-In. Reduce Storage Costs by 50%. 100% Software.
NexentaStor is our flagship Software-Defined Storage (SDS) platform, allowing thousands of customers all around the world to transform their storage infrastructure, increase flexibility and agility, simplify management and dramatically reduce costs without compromising on availability, reliability or functionality.
NexentaStor delivers unified file and block storage services, runs on industry standard hardware, scales from tens of terabytes to petabyte configurations, and includes all data management functionality by default. NexentaStor is SDS with SMARTS: Security, Manageability, Availability, Reliability, (lower) TCO, and Scalability.
Functionality
Enterprise class unified storage with SMARTS
Block and File services, scaling from 10's of TB to PBs
Resilience and performance required for Cloud and Enterprise applications
Built-In comprehensive suite of data management functionality
Future Plans
Performance optimization on all SSD and hybrid configurations
All SSD reference architecture with high performance inline data reduction
Eliminate deployment friction (ecosystem integration, simplified tools, management, etc.)
New hardware support (12Gbps SAS, Intel Haswell, 16Gbps FC, etc.)
Competitive Advantages
Mature SDS product, proven at 1000's of customer deployments
Advanced functionality that matches or beats competitive offering from big box vendors
Great performance, TCO and strong technology partners
Target Use Cases
Block and file storage for Enterprise Applications
High performance all flash, hybrid and all HDD storage for VMware, Hyper-V, OpenStack and CloudStack
Large namespace and high performance file repositories for streaming applications
New in NexentaStor 4

​