Nexenta places great emphasis on empowering our customers and partners with the ability to leverage leading hardware platforms on our flagship Software-Defined Storage (SDS) software platform, NexentaStor. NexentaStor enables thousands of customers all around the world to transform their storage infrastructure, increase flexibility and agility, simplify management, and dramatically reduce costs without compromising on availability, reliability, or functionality.
Nexenta works closely with select partners to deliver NexentaStor solutions in 3 different options: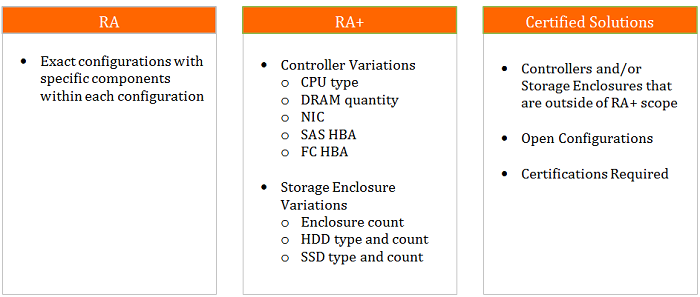 Reference Architectrues (RA)
Reference Architectures consist of fixed sets of components within RA building blocks. RA building blocks are:
Controllers: x86 servers with specific CPU, memory, NICs, and HBAs
Storage enclosures: JBOD with specific HDDs and SSDs
NexentaStor software
Nexenta and our hardware technology partners collaborate to pre-certify NexentaStor software releases on each RA solution. In most cases, hardware technology partners offer consolidated SKUs for RA configurations to simplify ordering and selling of NexentaStor solutions. As a result, RAs typically provide the fastest path get started.
To view the complete set of NexentaStor Reference Architectures, visit the NexentaStor Product Page under "Resources" or click here.
Reference ArchitecturePlus (RA+)
Reference Architecture Plus is a targeted variation of a RA configuration and provides additional flexibility. This flexibility is limited to modifying specific attributes of RA building blocks. Specifically, RA+ allows variations in CPU, DRAM, NIC, SAS HBA, and FC HBA in controllers and enclosure count, HDDs, SSDs in storage enclosures. To learn more about RA+ options or to discuss a particular configuration, contact sales@nexenta.com.
Certified Solutions
Nexenta offers our partners, including our Nexenta Partner Program (NPP) community of resellers, the ability to offer solutions based on our customers' needs by certifying a solution. The below solutions have completed this process for NexentaStor 4.x.