Guides
Best Practices Guides
NexentaStor: VMware Best Practices
The document provides guidance on configuring NexentaStor systems to include:
Best practices and recommendations for deploying VMware vSphere 5.x with a NexentaStor 4.x Array
Tuning options and deployment methods for NFS and iSCSI protocols in production environments
VMware cluster recommendations for high availability and load balancing
Utilizing vSphere API Array Integration with NexentaStor
Best Practices Video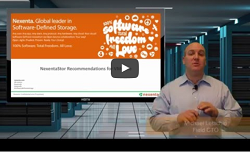 Solution Guides
NexentaStor: ZFS Performance Guide
This document helps end users understand Nexenta and the sizing of storage appliances. This paper walks through all the necessary knowledge needed for sizing storage nodes. Tuning an appliance should not be necessary if hardware is sized correctly for the workload. Once in a while, we might hit a few cases that require some tuning. However, 99% of the time, if the hardware is sized correctly, no tuning is necessary.
NexentaStor: iSCSI Security Using CHAP
Securing LUNs accessed via iSCSI is accomplished by using Challenge-Handshake Authentication Protocol, or CHAP authentication. There are two flavors of CHAP authentication: unidirectional and bidirectional. The goal of this paper is to walk through the setup and understand the concepts around LUN masking in iSCSI.
NexentaStor: iSCSI Multipath Configuration
The purpose of this document is to provide recommendations and configuration instructions for setting up iSCSI multipathing on both a NexentaStor Enterprise appliance and various common client operating systems. This document provides sane standardized configuration options.